Welcome
Passion and Perfection is home to a wide variety of f/f fan fiction from a number of different authors. These stories vary from country to country, galaxy to galaxy and from one century to another, but there is one thing they have in common: they each portray the love and friendship that exists between women.
So if it's femslash you're looking for, sit back and enjoy what we have to offer.
ralst
In Print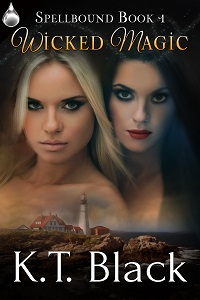 Wicked Magic: Spellbound Book 1
Imagine Cinderella falling for the seductive charms of the Evil Queen. K.T. Black takes adult fairy tales to new heights in Book 1 of her contemporary romance series Spellbound. Filled with unexpected twists and turns, Wicked Magic is a modern retelling of an old favorite.
Publisher: Liquid Silver Books: http://lsbooks.com
Murcoch Mysteries
Since the last site update there have been a surprising number of female couples on our screens: established couple Santana and Brittany got married on Glee, almost couple Lexa and Clarke set fangirls' hearts racing on The 100, Broadchurch gifted us with an older couple, Call the Midwife did a jig over our tender hearts and Murdoch Mysteries (above) gave us sweet lady kisses in nineteenth century Canada.
Plus we had Callie smooching with her ex-wife's ex on Grey's Anatomy, Ilana hooked up with a lady on Broad City, One Big Happy introduced Lizzy and Person of Interest continued to revolve around Root's heartache at the temporary loss of Shaw.
Plus many I haven't heard about but would love to discover.
Updated: 25th March 2015
A little more femslash for your enjoyment.
Due to the lack of submissions I've decided to concentrate on some of the other aspects of the site. First up is the links section, that I'm hoping to add to continually over the next few weeks, but for which I need your help. So if you know of any sites that need to be added, drop me a line and let me know (including what femslash fandoms it features).
The messagebot that used to send out update notifications appears to have disappeared. So unless anyone knows of a similar system still in operation I'm afraid it's back to checking the site on a semi-regular basis (I shall endeavour to make the updates regular too).
I'd like to welcome two new creators to the site, so a hello and howdy to foomatic and Elle Rogue... it's great to have you aboard.