Seasons of Love
The Story of Olivia Spencer and Natalia Rivera
By Cabenson
I have a confession to make: I haven't watched daytime soap operas in years. Not that I have anything against them—I just felt that I had outgrown them and besides, today's soap operas really aren't representative of my life, nor of my family's and friends' lives. I mean seriously, how many members of your family have come back from the dead after five years or been possessed by the devil? So, when several friends suggested I watch the growing Olivia Spencer/Natalia Rivera (Otalia) relationship on Guiding Light, I politely told them no. Even the tease of a kiss posted all over YouTube couldn't convince me to give the show a try.
Then I got a virus. In my computer. And while standing in line at Best Buy on a cold February afternoon to get a new PC, I happened to glance at the television section. Displayed on over 50 screens of various shapes and sizes was an actress that I recognized immediately from my days watching Days of Our Lives: Crystal Chappell. Interested in seeing what she was up to, and trying to keep myself amused in a never ending queue, I strained to read the closed captioning: Something about feelings for another woman and some cute, dimpled guy stroking his tie and saying to Chappell, "So, you and Natalia?" By the time I got my computer the episode was over and I was hooked. I spent the better part of two weeks catching up on a year's worth of back-story and found myself completely invested in one of the best love stories I have ever seen on television.
HISTORY
Guiding Light (GL), originally created as a radio show (The Guiding Light) in 1937 by Irna Phillips, began airing on CBS in 1952. For over seven decades, GL and the residents of Five Points, Selby Flats, and eventually Springfield both educated viewers with socially relevant stories such as substance abuse, cancer, and marital rape, and alternately entertained them with fantasy-filled plots and outlandish storylines involving cloning and time travel.
In late 2008, facing imminent cancellation, GL struck gold when they began in earnest to explore the story of two single mothers, Olivia Spencer and Natalia Rivera (Otalia), and how their relationship progressed from enemies, to friends, and culminating in falling in love with each other. The chemistry between the actresses (Crystal Chappell and Jessica Leccia) was evident from their first moments together onscreen and it just kept growing as the storyline played out. I have no doubt that had the pairing been allowed to display any actual scripted physical affection, televisions, DVRs and computers across the world would have inevitably blown up from the hotness.
The fandom exploded in early 2009 and the pairing was discussed and analyzed on many websites including Big Purple Dreams, Television Without Pity, and Livejournal, as well as several mainstream news outlets (EW, TV Guide). Unfortunately, not even the Otalia storyline was enough to improve the ratings and on April 1, 2009, Guiding Light was cancelled. The final show aired on Friday, September 18, 2009.
Love at all Costs: Olivia Spencer
Olivia Spencer was introduced to the GL canvas in 1999. A determined businesswoman and owner of Springfield's Beacon Hotel, who reveled in the seductive power she held over men, Olivia took the town by storm. Passionate, irreverent, and often self destructive, Olivia was not afraid to go after what she wanted, regardless of the cost -to herself or others. Vindictive and reactionary, she considers herself "toxic" and when she is hurting, it is guaranteed that everyone around her will be hurting as well. As badass as Olivia can appear, however, she has a certain vulnerability that only those closest to her ever see.
Over the years Olivia married several of the most powerful men in Springfield, but never found the mutually loving relationship that she felt she deserved. While recovering from heart transplant surgery, Olivia claimed that she has learned from her mistakes and, "if I'm ever lucky enough to fall in love again, I am going to do the opposite of everything I've ever done in my past." (06/18/08)
While not too many Springfield residents would have a kind word to say about her, most would agree that she is a wonderful mother to her daughters, Ava and Emma. All she has ever wanted was to give her children and herself a sense of family and a loving home. Her youngest daughter Emma, fathered by Phillip Spaulding, is the most important person in Olivia's life. It was her fear of Phillip that first pulled her into Natalia's orbit when she made a deal with Alan Spaulding, Phillip's father: She would become a wedge in Natalia's relationship with Alan's son Gus (Alan wanted Natalia for himself) if Alan protected her and Emma from Phillip.
A Higher Love: Natalia Rivera
Natalia was introduced in 2007 as the childhood sweetheart of Gus Aitoro (known to Natalia as Nicky Augustino). Daisy, Gus's stepdaughter, brought Natalia to Springfield in an attempt to break up her mother Harley's marriage to Gus. When she came to Springfield, Natalia did so with a big secret: as a teenager, she had given birth to Gus's son, Rafe. Daisy's plan failed, but Gus and Harley did eventually end their marriage. Deciding that Rafe needed a stable home life, Gus proposed to Natalia.
Natalia is a hardworking single mother, devoted to her son Rafe. Like Olivia, Natalia simply wants a loving family environment in which to raise their children and her early attachment to Emma helps her achieve this. She is a proud woman, generous to a fault, and is the first to see the good in other people. Natalia is also feisty and doesn't give in when fighting for something, or someone, she believes in. Once a victim of Olivia's manipulations, she is also one of the few people to stand up to Olivia Spencer and walk away unharmed. Not completely flawless, Natalia often acts impulsively and unintentionally hurts those she loves, including Olivia.
Her Catholic faith has been a source of both constant comfort and ceaseless torment in her efforts to live her life according to God's plan. She works primarily as a maid at The Beacon, but takes additional waitressing and bartending jobs as financial need dictates before finally accepting the position as Olivia's assistant. With as much faith as she puts in others, Natalia is unsure of herself and her own abilities and is often willing to settle for less than she deserves in both her professional and personal relationships.
Love Glue: Other characters of importance
Gus Aitoro: Gus is the biological son of Alan Spaulding. As a teen-ager Gus left Chicago not knowing that his 16-year-old girlfriend, Natalia, was pregnant with his child.
Frank Cooper: A good man, Frank fell in love with Natalia after Gus died.
Ava Peralta: Ava is the child Olivia gave birth to at 16 after being date-raped by Jeffrey O'Neill.
Rafe Rivera: Natalia's teenaged son with the late Gus Aitoro.
Alan Spaulding: A man of power and wealth, Alan manipulates people with ease. He has failed with his own children and now looks to his grandchildren as the future of Spaulding Enterprises.
Phillip Spaulding: One of Olivia's ex-husbands, who is Emma's father and Alan's son.
Emma Spencer: Olivia's young daughter with Phillip Spaulding.
Doris Wolfe: the Mayor of Springfield who is hiding a big secret.
Autumn 2007: Fighting for Love
When they first cross paths, Olivia and Natalia are both fighting for love. Natalia is fighting for the love she has been waiting for since she was a teenager; Olivia fighting for the love she believes will save her.
After many years, Natalia is reunited with Gus, her high-school sweetheart and the father of her troubled teenaged son, Rafe. Caught up in her idealized view of romance, Natalia has never allowed herself to become involved with another man. She feels that Gus is the only one for her and he will give her and Rafe the sense of family that they both not only desire, but need.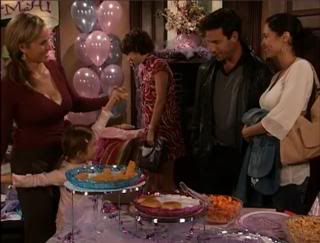 Olivia Spencer needs protection. Tormented by her mentally ill ex-husband Phillip Spaulding, and fearful that he may return to Springfield and, once again, take her beloved daughter Emma away from her, Olivia has no choice but to make a deal with the devil: Alan Spaulding (10/29/07). Taken with his son Gus's beautiful girlfriend, Natalia, Alan offers to protect Olivia from his son if she "creates a wedge" between Gus and Natalia. Olivia reluctantly agrees, but after becoming friends with Gus she tries at one point to renege on the deal. When Alan makes it look as though Phillip had returned, a frightened Olivia has no choice but to uphold her end of the deal (11/09/07).
Everything changes when Olivia is diagnosed with a terminal heart condition. Not wanting to die alone, Olivia told only Gus about her illness and quickly found herself falling in love with her good friend. The only problem was that Gus's fiancée, Natalia, didn't trust Olivia:
Natalia: I'm suspicious of you.
Olivia: You barely know me.
Natalia: I've heard about you.
Olivia: That I'm a man eater? A husband stealer?
Natalia: Are you?
Olivia: Yeah. So if I wanted Gus, he'd be mine by now. (12/07/07)
While Gus works to get Olivia to the top of the transplant list, Olivia does everything she can to ruin Gus's relationship with Natalia, including canceling their dinner reservations at Towers, the ritziest restaurant in Springfield. Ava, finally learning of her mother's illness, realizes that Olivia's feelings for Gus are genuine (12/18/07). Olivia vows to fight for Gus's love because she feels that the hope he provides is the only thing that will save her. Natalia, unaware of Olivia's illness, has no intention of letting anyone ruin the family she has longed for all these years, especially Olivia Spencer.
Winter 2007/2008: Dying for Love
Despite her weakened state, Olivia continues to come between Natalia and Gus and even goes so far as to interfere with their wedding plans (1/15/08). Suspicious of all the time Gus was spending with Olivia, Natalia finally confronts them both and accuses Gus of "one last bachelor fling with the town whore." She is stunned to learn that Gus has been spending time with Olivia because she is dying (1/17/08). After promising to be there for Olivia, Natalia apologizes and gives her rival a hug.
Natalia tries to connect with Olivia and even thinks that they could be friends. She tells Olivia that she will help Gus care for Emma and even when the truth about Olivia's deal with Alan comes out, Natalia continues to be there for both of the Spencer women, making special efforts to spend time with Emma. Regardless of Natalia's desire to be friends, Olivia still wants Gus and makes that known. On her wedding day—and wanting the ceremony to go off without a Spencer-style hitch—Natalia locks Olivia in a bathroom and inadvertently causes her to miss out on a transplant opportunity. Natalia tries to apologize, but her pleas fall on deaf ears: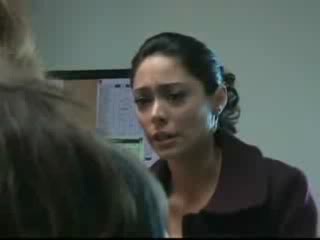 Natalia: Olivia, I am so sorry.
Olivia: Congratulations. You got the ring, the dress, the guy. It only cost me my life. I hope it was worth it. (02/11/08)
Olivia is placed back on the transplant list and tries to come to terms with not being there for Emma. She is growing weaker and but is still able to take advantage of a remorseful Natalia:
Olivia: Everyone dies. You just bought me a seat on the express train.
Natalia: I'm a mother, too. I would never try to jeopardize your life and take you away from your children. I am so very sorry.
Olivia: I think you mean that.
Natalia: Short of giving you my own heart, I will do whatever I can for you.
Olivia: Okay. Give me your husband. Till death do us part. It shouldn't be very long, thanks to you. (02/15/08)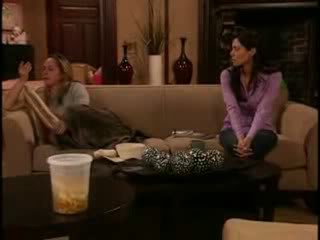 Still reeling with guilt, Natalia decides to sacrifice her own happiness and "leaves" Gus so he can be with Olivia during her final days:
Natalia: I love being your wife. And if we're supposed to be together forever, then we will be. But Olivia doesn't have that kind of time. I can't be happy—and we can't be happy—if we know that her last days are misery. She needs someone that can take her hand and tell her she's beautiful, and hold her when she's scared. (02/19/08)
Natalia's empathy for Olivia's situation is not completely rooted in guilt over the missed transplant. She truly feels for the woman and her children during this time, and although she doesn't like having to share her husband, she does understand why Olivia needs him.
Spring 2008: Grieving for Love
Spring 2008 is a time for new life: Olivia finally receives her new lease on life, but at a horrible cost to her, Natalia, and Rafe. When Gus is mortally injured in an accident while looking for Olivia, Natalia must make the agonizing decision to give Gus's heart to her rival. Refusing to allow this woman to have one last piece of her husband, Natalia is swayed when an innocent Emma, seeing that Natalia is sad, offers her a simple daisy.
After seeing her son lose the father he just found, Natalia cannot watch Emma lose her mother and allows the transplant. Reeling with the loss of Gus, she remains at the hospital while Olivia is in surgery, even though she admits, "I can't even figure out why I'm here." (04/02/08). She weeps when she hears Olivia has survived the surgery—tears of relief for Olivia and her family, tears of grief for Rafe and herself.
Olivia wakes up and her brief moment of happiness is destroyed when she learns that she has Gus's heart. She becomes despondent and refuses to eat or accept treatment. Natalia visits her and even though they argue, she can't stay away:
Natalia: His heart. It's all that's left of him. It's all I have.
Olivia: Go away. I'm tired. I'm tired. I don't want you here. I don't want this. Go!
Natalia: I can't. (04/07/08)
Both women handle their grief in different ways. Olivia, burdened with survivor's guilt and thinking herself unworthy of Gus's heart, refuses to do what is needed in order to recover from the surgery. She continues to seek a lasting connection with Gus going so far as to buy the house Gus bought for his family out from under Natalia and demanding Natalia's wedding rings.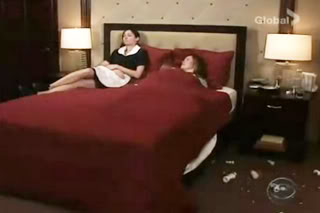 Natalia uses her pain from losing Gus and her anger towards Olivia to fuel her mission to see that Olivia doesn't squander the precious gift Gus gave her:
Olivia: I have a plan and I'm sticking to it. I want to die.
Natalia: Well, not on my shift. (04/17/08)
Through their mutual grief, an uneasy friendship forms between the two women and it grows stronger as Olivia heals. When Natalia learns that Olivia has been hospitalized, she visits and we see the potential closeness between the two as Olivia promises Natalia that she is taking care of Gus's heart (05/06/08).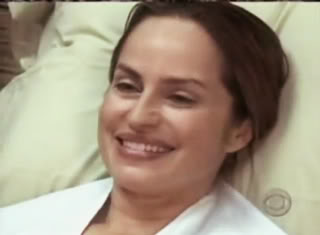 After initially trying to give Natalia the house back, Olivia offers to sell it for the money that Rafe found in Gus's old jacket and they bond over missing Gus. But when an investigation into Gus's old cases implies that he was a corrupt cop, an impulsive Rafe takes matters in his own hands and accidentally shoots the D.A, Jeffrey O'Neill, who is the father of Olivia's daughter, Ava. After her son flees the country, Natalia begs Olivia to return the cash she used to buy the house so that she can follow him, but Olivia refuses. She later relents and gives Natalia the money:
Olivia: I can keep a secret. And I want to help you. I want to help you be with your son.
Natalia: Thank you so much. And I will pay you back.
Olivia: You don't need to pay me back. I just want to help Rafe, and I want to help you. (05/28/08)
Even after learning that Natalia's son has shot her daughter's father, Olivia is unable to keep herself from helping them both. We see the wall that Olivia has built around her heart beginning to crack as she makes the first of several selfless overtures toward Natalia.
Summer 2008: Connected by Love
During the summer of 2008 Olivia and Natalia bond over their own missing children. While Ava was at a clinic being treated for postpartum depression, her premature infant son, Max, died and Olivia now grieves for both daughter and grandson. Rafe is still on the run in Europe with Harley, his former stepmother, and Natalia hasn't heard from him. Natalia recognizes that Olivia isn't feeling well, both physically and emotionally, and offers to help. But for every step forward in developing their friendship, they take two steps backward.
Things take a turn for the worse when they begin to argue over Alan's "visions" of Gus. Natalia believes that Gus is guiding them all through these visions and Olivia thinks she is incredibly naive, especially when Natalia, at Alan's urging, thinks about contacting Rafe.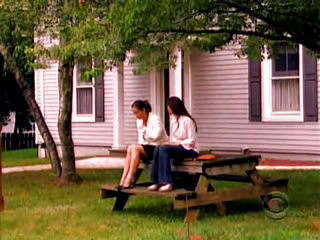 Olivia eventually finds herself having faith in Alan's visions, or rather, faith in Gus guiding her through Alan, and refuses to go to her medical appointments even though she has started feeling ill again. When Rick Bauer, Olivia's doctor, reveals that Alan's visions are due to a blood clot, Natalia convinces Olivia to get herself checked out, but Olivia is afraid of what her test might reveal so she goes to Gus's house where she runs into Natalia:
Olivia: Gus's heart is strong. It's me. I'm the one who messed up. Believing that Alan could channel Gus, you know, that he could tell me how I'm supposed to live my life. It's stupid.
Natalia: Then what are you doing here? I know why you're here. You want to feel close to Gus. That's why I'm here.
Olivia: Don't let it get around, but I don't want to die. (08/22/08)
When Rafe is arrested, Olivia once again neglects her own health needs and pulls out the stops top get him a good lawyer and PR person. Natalia is appreciative, but wants Olivia to just take care of herself. She can't worry about both her son and her friend at the same time. Nonetheless Olivia does everything she can to help Natalia and Rafe, including smoothing things over between the two when Rafe blames his mother for his arrest. But Olivia's hiring of the expensive lawyer makes Natalia uncomfortable:
Olivia: Don't think about it, okay?
Natalia: $25,000, don't even think about it?
Olivia: A lawyer like that won't take a case without a retainer. Would you rather he not take the case?
Natalia: I had no idea that I owe you that much money now.
Olivia: I never said you had to pay me back. Consider it a gift, an investment in Rafe's future. (09/16/08)
Once again, Olivia acts selflessly to make Natalia's life a little easier. She doesn't have to help; after all, Rafe can't stand her and still blames her for Gus's death. Yet she does and we see again, a different side of Olivia Spencer emerging as she thinks about someone else's happiness before her own.
Autumn 2008: A Need for Love
"I need you" is a signature phrase for the Otalia relationship, as well as an underlying theme for the remainder of their storyline. Olivia needs Natalia's help both professionally and personally, and Natalia needs something or someone to devote herself to while Rafe is away. Becoming more and more dependent upon Natalia, Olivia starts seeing more than friendship in their relationship. Natalia, dealing with Rafe's imprisonment, finds herself growing closer to Olivia and Emma.
Unable to pay Rafe's legal fees and unwilling to accept further help from Olivia, Natalia considers paying off her debt by sleeping with the attorney, Vince Russo. Olivia, thinking she is keeping her friend from making a huge mistake, keeps her from doing this and once again they argue: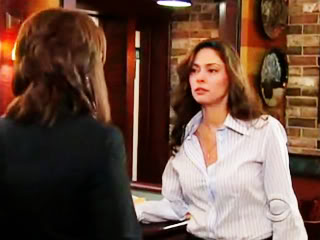 Olivia: I just saved your butt in there. He was all over you!
Natalia: But he's the best lawyer in town, and now he won't help. It's nothing you wouldn't do, Olivia, for Ava or Emma.
Olivia: But that's different. That's me. This is you….Button your shirt! (09/26/08)
Realizing that she can't help Natalia anymore—that Natalia doesn't want her help—Olivia decides to focus on Emma, running The Beacon, and her new PR job with Galaxy Hotels, a renown chain of luxury hotels based in Asia. That doesn't stop her from feeling badly for Natalia when they run into each other after Rafe is sentenced to state prison.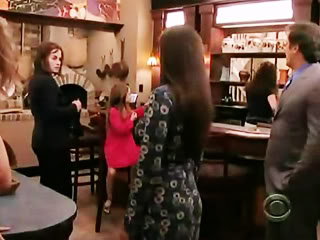 Regardless of whether Natalia needs her or not, Olivia cannot deny that with her declining health, she needs Natalia, especially after Natalia saves her by pretending to be her assistant when Olivia becomes ill during a photo shoot.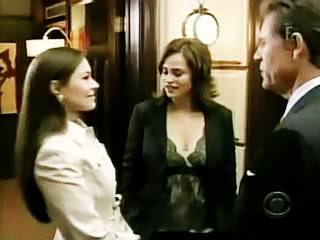 Olivia is impressed with the way Natalia thinks on her feet and offers her a job as her assistant, but Natalia hedges and Olivia storms off. Olivia knows that Natalia is capable of so much more, and that Natalia must be pushed in order to gain the confidence that she needs.
After yet another incident of helping Olivia deal with Lawrence Decker, her boss with Galaxy Hotels, Natalia insists on taking Olivia to the hospital where they get some disheartening news—Olivia may be experiencing a round of organ rejection. When Natalia raises her hand to her chest as Olivia takes in this news is very indicative of how Natalia's feelings for Olivia are evolving.
They run into each other later at Company—a local restaurant run by the Cooper family—where, unbeknownst to Olivia, Natalia has ordered all of her favorite foods. Natalia is deeply saddened over her friend's prognosis, but Olivia thinks that Natalia is only concerned with losing Gus's heart again, Natalia angrily storms out, and once more the women are at odds. But even after Olivia rages at her, and Natalia questions how anyone could ever care about Olivia, Natalia continues to be there for the Spencers by picking up a forgotten Emma and taking her to Company for ice cream. A frazzled Olivia arrives and watches Natalia with her daughter. You can see the mixture of relief, appreciation, and surprise as she slowly realizes that Natalia does care about her and Emma.
Olivia gets proof of this when, after trying once again to get Natalia to take the assistant's position at the hotel, she suffers cardiac arrest. Natalia holds her hand and caresses her hair as Remy attempts CPR: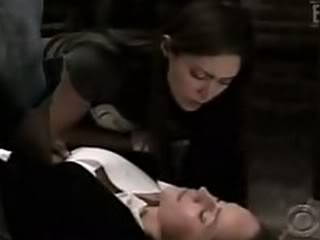 Natalia: Olivia! Olivia! You better not give up, okay? On Ava or Emma or me! (10/22/08)
Natalia stands over Olivia's hospital bed and prays for her. When she finally comes to, Olivia looks at Natalia as though she is seeing her for the very first time and talks about how Natalia was there for her:
Olivia: I can't get rid of you, can I?
Natalia: No. (10/22/08)
For me, this entire scene is the turning point in their relationship. They continue to stare at each other, even after Dr. Rick enters the room, and when Natalia turns away, Olivia's gaze lingers ever so slightly. When Olivia is told that she needs a pacemaker, the concern on Natalia's face once again gives away her growing feelings for Olivia. And the tears of relief in Olivia's eyes as Natalia accepts the job shows that whether it is as a friend or an employee, Olivia simply wants Natalia in her life. There can be no doubt at this point that she feels more than a simple friendship for Natalia even if she can't name her feelings yet.
As we watch the professional relationship between Olivia and Natalia grow, we also see their personal relationship deepen. They think nothing of calling each other on their shit regarding hiding things from their children: Olivia is hiding her relapse from Emma and Natalia is hiding how much Rafe being in prison is affecting her. (11/03/08).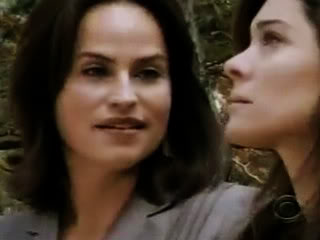 Olivia takes it upon herself to get the Governor to move Rafe to a safer prison. The problem is that it will cost Natalia her house. Natalia reluctantly agrees to the deal and both women want to know how they are supposed to say goodbye to Gus. Natalia reaches for Olivia's hand and they walk out together, closing this particular chapter in their lives (11/10/08).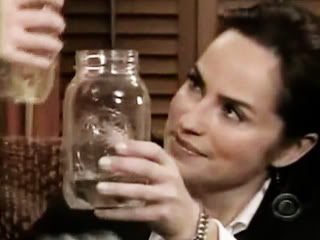 Lawrence Decker springs a surprise visit with the head of Galaxy Hotels on Olivia, so she decides to host a "home-cooked" dinner, courtesy of Natalia, at the vacant Farmhouse of her former business partner, Cassie Lewis. Surprised when their guests show up a day early (thanks to a well-intentioned Buzz Cooper), Natalia proves her professional worth, when she pulls off a wonderful dinner with no preparation. Meanwhile, Olivia, hiding her illness from Decker, enjoys watching Natalia shine in the homey environment. When Decker proposes a toast to "this truly amazing woman" (meant for Olivia) Olivia, eyes locked on Natalia, can't help but quietly toast to her friend.
Olivia encourages Natalia to use the money she got from selling Gus's house to buy the Farmhouse and becomes upset when Natalia refuses to take her financial advice. Natalia takes the opportunity to remind them both of exactly what their relationship is:
Natalia: You're my boss. And you're my friend, right? So, yes, if you have an opinion about something, absolutely, you let me know. But you can't make decisions like this for me. You're not the boss of my life. (11/20/08)
This statement comes back to bite Natalia in the ass when she naively invests all of money in a high-risk hedge fund run by Decker. If the fund does well, she will have enough money to buy the Farmhouse. On Thanksgiving morning Olivia breaks the news to her friend that the money is gone and a distraught Natalia goes to see Rafe and tells him what she has done. When she leaves, she finds Olivia waiting there for her, offering a comforting hug.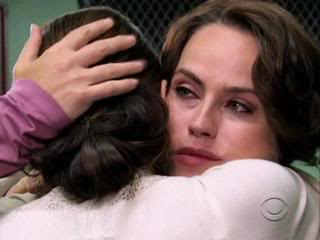 After Frank, who has started falling in love with Natalia, reams her out for "allowing" Natalia to lose her money, Olivia goes to Decker and pleads for him to return Natalia's money. She makes it to the bench outside his office when she collapses and calls Natalia for help. Decker sees Olivia leaning on Natalia and visits her in the hospital where he offers her a deal: He will give Natalia her money back if she gives up her position with Galaxy Hotels and publicly apologizes for deceiving them about her health. She agrees and when he appears to renege, Olivia threatens to sue for discrimination.
Olivia is beaming when she hands Natalia a check for $80,000, and while Natalia is grateful, she puts two and two together and realizes that Olivia sacrificed her Galaxy job to help her:
Natalia: No, no. So you cut a deal? You will just walk away and there is no negative publicity for him, as long as you...
Olivia: All right. All right. Yeah, that's it.
Natalia: And you didn't fight to keep it?
Olivia: I could have. I would have walked, so I got what I could out of it.
Natalia: You didn't get anything!
Olivia: Of course I did. (12/15/09)
That final line, "Of course I did" marks another shift in the storyline. Not only is Olivia able to take away Natalia's pain, she learns how good it feels to put someone else's needs ahead of her own without expecting anything in return. Making Natalia happy makes Olivia happy.
And when she once again summons Natalia to her room, Olivia is surprised to hear Natalia's plans to buy the Farmhouse and have the Spencers move in with her. The smile on Natalia's face, as well as the cheeky cock of her head is so endearing and at this point, Olivia is so smitten she can't refuse Natalia anything.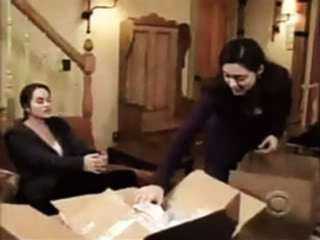 Moving in together, however, proves more difficult than either woman imagined when they realize just how little they have in common. After one too many arguments, Olivia decides it would be best for her and Emma to return to The Beacon after the holidays. Emma is distraught over this news and runs away. Both women try to comfort her, but Emma is determined that the three of them are a family and the Farmhouse is home.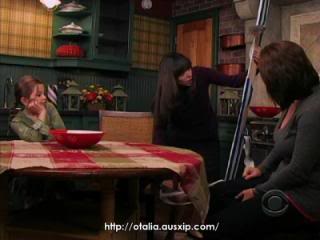 An exchange of gifts between Natalia and Olivia cements this fact. Olivia arranges to have a section of the doorframe with Rafe's childhood measurements shipped from Natalia's old apartment in Chicago—a sentimental piece that helps Natalia deal with Rafe being imprisoned over the holidays. In return, Natalia offers Olivia keys to the Farmhouse, but in effect is actually offering Olivia what she has always wanted: a home and a loving family. Regardless of how they define their feelings, both gifts are symbols of the deepening affection each woman has for the other.
Winter 2008/2009: Dancing Around Love
The family continues to gel and when it looks as though Olivia is healthy enough to move out, she realizes that she is really happy living at the farm with Natalia. A misunderstanding leads her to believe that Natalia wants her to leave, and after agreeing the Spencers will stay, they each make it clear that it isn't just the circumstances keeping them in each other's orbit:
Natalia: It's just... it's just kind of funny. You know? If somebody had told me that we would be living together a year ago and liking it...
Olivia: I would have decked them.
Natalia: I know you would have. Here we are, though, you know, just enjoying it. And I want you to know it's not just... it's not just all about Emma or your rent money.
Olivia: Yeah. No, and it's not because I need your help. (01/13/09)
Everything is going well until an innocent school project changes the relationship dynamic between Olivia and Natalia forever. Sitting in the audience and holding hands, Olivia and Natalia proudly watch as Emma begins her presentation titled, "My Two Mommies." Olivia immediately picks up on how the other parents are interpreting Emma's project, but Natalia is oblivious. Back at the Farmhouse, Olivia, having had a few cocktails, tries to explain the subtext of Emma's project and when words fail her, she resorts to action and kisses Natalia.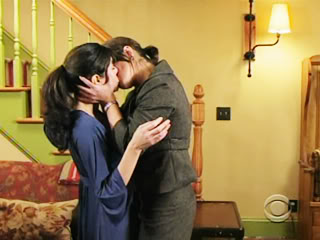 It is a kiss that changes everything.
Olivia realizes that she can't hide her feelings for Natalia anymore, even from herself. The problem is that isn't sure what she should do with these feelings.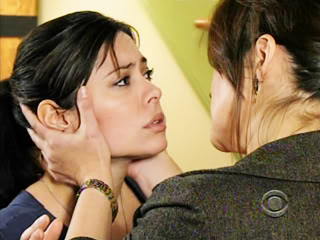 For Natalia, the kiss is a complete eye-opener. She suddenly recognizes that the love she feels for Olivia could be romantic love and when she realizes Olivia feels the same way, she actually calls her on it:
Natalia: They think that we're...
Olivia: Yup.
Natalia: But we aren't!
Olivia: No.
Natalia: Then...then why did you kiss me like that? (01/21/09)
While Olivia tries to play off the situation with humor, Natalia freaks out and insists that they "set the record straight." It is during her speech to Emma's teacher that we see Natalia realizing that Olivia is everything that she ever needed and wanted in a partner:
Natalia: Well, more than that. We are a family. You know, "My Two Mommies," doesn't mean that Olivia and I are a couple, you know, like you thought, but it can mean a lot of different things to a lot of different people. And I think that to us it means that we're two friends who leaned on each other when we were at our lowest. It means that I scraped Olivia off the floor when she was having trouble with her heart, and, um... she was there when my son went away to prison. And she did everything she could to keep me going. She showed me I didn't have to crawl into a ball and die. And today, when Emma was giving her speech, I wanted to cry because I... you know, I was so happy because we are a family. And I never thought that I could have that again after my husband died. You know, that my son and I could have that kind of support and love, but we do. And, you know, if that's not a family, I don't know what one is…. (01/21/09)
They return home, and Olivia, having witnessed Natalia's speech to Emma's teacher tries to keep thing normal between them by suggesting dinner, but Natalia, who has been spending more time with Frank at Olivia's urging, chooses to meet him, leaving a dejected Olivia home alone. But neither woman can get the kiss out of their minds, nor can they avoid bringing it up again when Olivia starts teasing Natalia about the slow pace of her relationship with Frank:
Natalia: Okay, then why did I just kiss Frank today just out of nowhere, out of the blue?
Olivia: Wow, a kiss. Big deal. You kissed me, too.
Natalia: No. You kissed me. And that didn't count.
Olivia: No, of course it didn't count. It wasn't like it was real or anything like that.
Natalia: Then why are you bringing it up? (01/27/09)
At this point it almost seems as if Natalia wants to talk about what is going on between them but Olivia is the one holding back. They keep wavering back and forth between wanting to be honest with each other, but neither one is able to summon the courage to actually speak the words out loud. They continue to defend their living situation, most importantly when Mayor Doris Wolfe makes a televised speech about protecting the children of Springfield from being exposed to alternative lifestyles in the classroom, Olivia responds by storming into Doris's office and making an impassioned speech about Natalia: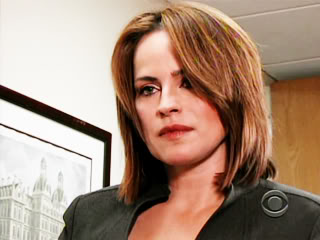 Olivia: It's not a story, it's my life. And you know that Gus died in a motorcycle accident. And Natalia, she... she agreed to give me his heart. I mean, after everything I did—after trying to steal her husband—she agreed to do that for me. Would you have done that? I couldn't have done that. But see, that's just who she is. She's just innately good. She's decent, she's kind, she's warm, she's beautiful and she's a lot stronger than people give her credit for. She has worked her whole life—and not for herself, but for other people. So even after I got out of the hospital—and I didn't want to live—she fought for me. She fought for me to live. And not just for me, but for my daughters, because she wanted them to have their mother there. And now we have a home, and it's different. But it's safe and it's warm and it's decent—and that's because of her. That's because of who she is. That's because of what she makes it. ( Sighs) What are you looking at?
Doris: I wish a man would talk about me the way you just talked about her. (02/04/09)
Through Olivia's speech to Doris, and in a sense Natalia's speech to Emma's teacher, both women are able to voice the feelings they have, which helps them move along in understanding and eventually expressing these emotions to each other.
Not everything is rosy though, especially when Olivia witnesses two women looking at her family and whispering. In true Spencer fashion, she not only accosts them, but also encourages the rumors about her and Natalia much to the latter's dismay. An argument breaks out when they get home and Olivia questions Natalia on her commitment to their family:
Olivia: So being two mommies together, this is just a really terrible, horrible thing?
Natalia: I didn't say that.
Olivia: It sounded that way.
Natalia: Oh, okay. You have your beliefs and I have mine.
Olivia: See, I thought that you believed in us, that you believed in this family and you and me and Emma. (02/05/09)
Olivia has always been protective of her loved ones, and in trying to defend herself and Natalia from the gossipmongers, she actually seems to be searching for a way to provoke Natalia into discussing the issue. Natalia isn't biting and once again, when the truth hits too close, Natalia leaves to see Frank. When she mentions wanting to get away to clear her head (of thoughts about Olivia), Frank thinking some time alone could jumpstart their relationship, offers to take Natalia out of town for the weekend. Natalia's trip is cancelled when Frank's brother is injured in a car accident, and Natalia is asked by Frank to relay a message to Olivia: Phillip Spaulding is back in Springfield.
Olivia panics at this news and it takes everything Natalia has to calm her down: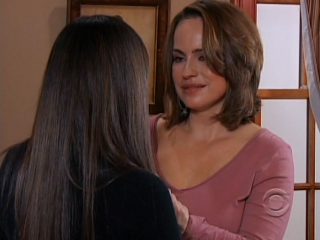 Natalia: I know you're scared. You have every reason to be scared. But you're working yourself up, and you're going to get sick, and you're going to scare your daughter. You can't make decisions right now. You just—you can't think straight. So I'll do it. You're not going anywhere. You shouldn't go anywhere. You have me. Let me be strong... for you, okay? I promise you, we are not going to let anything happen to your little girl. Trust me. Take a deep breath and trust me. (02/13/09)
Olivia can't bring herself to tell Natalia how she feels about her, but she does mention it to her ex-husband Bill when he comes to visit. She is pleasantly surprised when Natalia comes home from checking on Coop the hospital earlier than expected:
Natalia: All I really wanted to do was just come back here. I wanted to come back here and be with you. This whole situation with Phillip, I don't want anything to happen to you. (02/16/09)
Olivia fears that Phillip will use the rumors about her and Natalia to take Emma away. Natalia promises to help, but when Olivia presses as to how Natalia would define their relationship, Natalia brushes the question away with an ambiguous statement, "If you want me with you, just ask" and offers Olivia a comforting hug.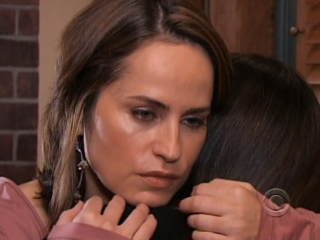 Natalia may be getting around answering Olivia's questions about their relationship by making veiled comments, but Olivia finally gets a clear idea when Natalia makes a slip at the memorial service for Frank's brother, Coop. When Olivia, frightened by Phillip's appearance at the service, tries to steal a policeman's gun to shoot him, Natalia pulls her away and questions her:
Natalia: Okay, Emma... if you get in trouble and you end up in jail, what's going to happen to her? What's going to happen to us?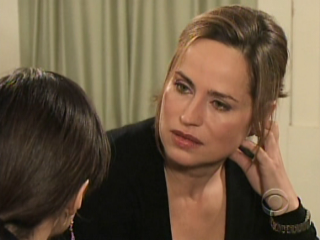 Olivia: What?
Natalia: I'm... I'm saying that you have to start doing the right thing for Emma.
Olivia: No, no, no. What you said...
Natalia: I didn't say anything. I'm... (02/23/09)
After yet another heated discussion with Olivia about their relationship, Natalia turns to Frank and helps him pack up Coop's belongings at the boarding house above Company. In a moment of weakness, and wanting to get Olivia out of her head, she sleeps with him and immediately regrets it (02/24/09). Meanwhile Olivia, having returned from a surprisingly positive visit with a jailed Phillip, is downstairs telling Jeffrey how she feels about Natalia.
Natalia, clearly upset with what happened with Frank, returns home and prays: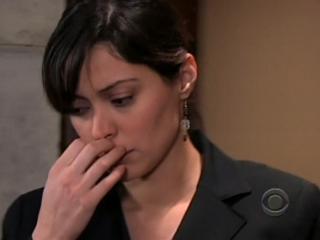 Natalia: I'm praying to you today because I need your help. I'm having all of these feelings and I need you to make me stop having them. I wanted to help a friend, a really good friend who's been so wonderful to me and I slept with him. I wanted to make everything okay, and instead it's made everything so much worse. (02/24/09)
It is at this point in the storyline that we see the beginning of Natalia's attempts to reconcile her religious beliefs with her growing feelings for Olivia. Natalia buries herself in the Bible, looking for answers but only finding more questions. When Olivia comes home from ditching Reva and Jeffrey's baby shower, Natalia tells her that she is happy to see her, and that she was hoping they could talk. Now it is Olivia's turn to run: "I don't think I can do that right now." (02/25/09)
On a several occasions, Natalia brings up the inability to control one's own sinful thoughts. When she finally breaks down and admits to Olivia that she slept with Frank, we see that is not just the thoughts of lust that have been tormenting Natalia, but also the fact that she has betrayed Olivia, the person she truly loves:
Natalia: [crying] I slept with Frank and I don't know why [turns toward Olivia] because I don't love him. (03/04/09).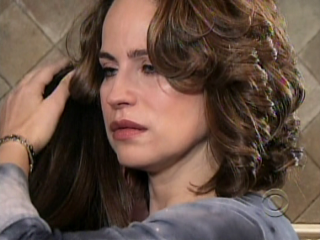 Olivia, obviously hurt, continues to comfort Natalia and when Natalia explains how she told Frank it could never happen again, she decides to summon her courage and tell Natalia how she feels. A series of interruptions prevents her from her task, but later that night, Olivia once again tries to broach the subject. After Emma tries to sneak off to see her father, Olivia and Natalia sit on the porch and discuss how to handle Phillip: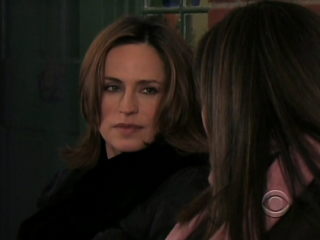 Natalia: I don't know either, but we will work it out. We will do it together. I'll help you.
Olivia: You will?
Natalia: Yeah. We're a team.
Olivia: We are a team.
Natalia: Of course we are.
Olivia: Thanks. I um... you've come to mean a lot to me. I think about this a lot, actually.
Natalia: What?
Olivia: You, us. (03/10/09)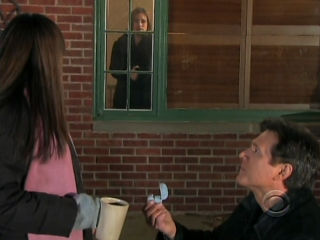 Their discussion is interrupted when Frank arrives and spontaneously proposes to Natalia. Natalia tries to tell Frank that she doesn't love him, and looks towards the house where she sees Olivia watching from the window. She is unable to give him an answer and when she looks back at the window again, Olivia is gone.
Olivia has in fact gone to a bar to drown her sorrows. She is surprised to learn that it is a gay bar and even more surprised when she runs into a poorly disguised Doris Wolfe. After an intense discussion where they both call each other out on living hidden lives, Olivia returns home to find Natalia waiting for her on the porch.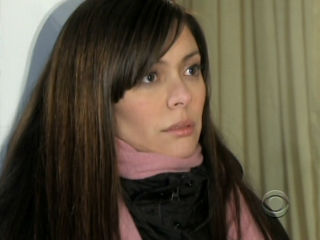 In that moment, they both realize, that despite Frank's proposal, they love each other. They just need to know what to do with that love.
Back inside, Natalia tries to understand why she couldn't give Frank an answer to his marriage proposal:
Natalia: So what does God want for me? Am I supposed to be alone for the rest of my life?
Olivia: No, I can't imagine that.
Natalia: But maybe God has someone for me and is just not who I expected. I just don't want to regret anything (03/11/09).
Natalia mentions that Frank proposed because he respects her religion and Olivia realizes that Frank is the perfect person for Natalia and encourages her to marry him. She only wants Natalia to be happy.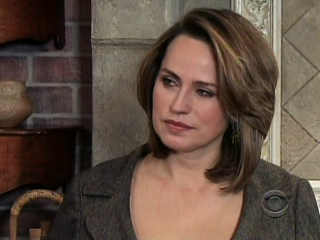 After Emma runs off once again, Olivia and Natalia decide to try and find ways to get Phillip back in jail. Olivia rails at Doris while Natalia approaches Phillip heads on and in the simplest terms possible, makes her feelings for Olivia clear:
Natalia: I don't want to make anything more difficult. I just... I would like for Emma to have as uncomplicated a childhood as she possibly can.
Phillip: So would I. I love her very much.
Natalia: I love them both. (03/16/0)
Meanwhile, Olivia has come up with a plan to get Phillip back in jail and calls Natalia to meet her at Company. When Natalia arrives, Olivia explains how she ran into Doris—in a gay bar.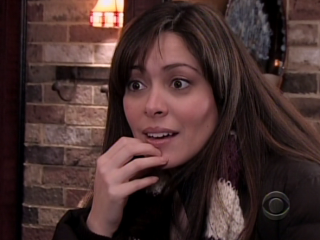 Natalia: What were you doing in a gay bar? (03/16/09)
Olivia tries to brush past Natalia's questions by talking about Doris's disguise, but Natalia brings it up again. She seems shocked, and yet fascinated that Olivia was in a gay bar. She reluctantly agrees to blackmail Doris and through this act they get Phillip's trial moved up.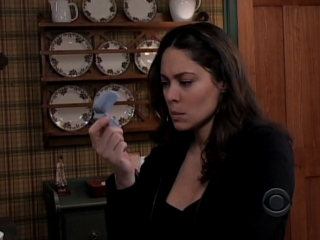 Natalia still hasn't made a decision regarding Frank's proposal. When she helps avert a family crisis at Frank's grandson's christening, the Coopers embrace her as their "missing member" while Olivia looks on longingly.
During the ceremony, Olivia and Natalia sit very close together and Olivia can't help but to turn and look at the woman she loves but can never have. In her mind, Natalia marrying Frank will be the best thing for everyone involved.
Deciding that it's time for her and Emma to move on, Olivia starts searching for a new home. When Natalia enters with pictures from the christening, Olivia brings up the Coopers and how Natalia fits. Natalia is not up for this particular conversation and changes the subject by showing her favorite photo—a picture of Olivia:
Natalia: There are a lot in here. Some really cute ones. I gave Ashlee the camera half way through. Oh, this one is my favorite. Look at that. You are so beautiful.
Olivia: Well, Ashlee did a good job. Not bad.
Natalia: Ashlee didn't take that one. I did. (03/25/09)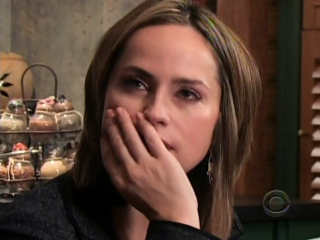 Olivia is clearly touched and it was almost as if Natalia was daring Olivia to deny that they have something real between them. When Natalia goes to put pictures on the laptop, she discovers that Olivia has been searching for a new place to live and can't keep the sadness from her face. Olivia gently explains why she and Emma need to leave—they need to be prepared for when Natalia decides to marry Frank. And for the first time, we hear Olivia mention the real reason she is pushing herself out of Natalia's life:
Olivia: Come on. Don't be so sad, please. It's the right thing to do. (03/25/09)
The next day Natalia goes with Olivia to look at a prospective new home for the Spencers, when Olivia's pacemaker monitor goes off and which in turn prompts a trip to the hospital. While Olivia is sedated, Natalia takes the opportunity to tell Olivia how she feels:
Natalia: Okay. So I know you think I'm going to sit here and scold you and tell you not to scare me? But I'm not going to. I'm just going to sit here and be here for you, like I always am. [Holds Olivia's hand] I have never had a friend like you, ever. And who would have thought that two people like us could be so close. It makes me happy. You make me happy. (03/26/09)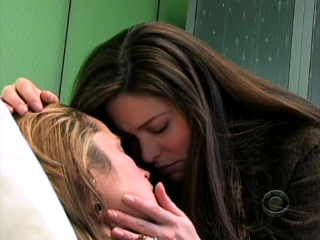 Natalia strokes Olivia's hair, stands up, and upon confirming that Olivia is still unconscious, kisses her forehead. She then caresses Olivia's face and leans in to kiss her on the lips when Olivia awakens. They make light conversation to break the tension and Natalia decides to leave.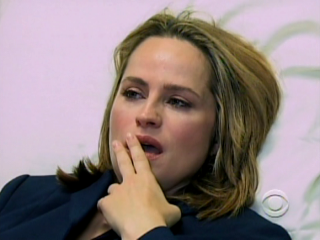 Watching her go, Olivia brings her fingers to her lips—she was awake when Natalia almost kissed her and now, she is freaked out.
Praying, Natalia seems to have made her peace with God in regards to her feelings for Olivia and begs God to always allow them to remain friends. She looks at her finger and slowly removes Gus's rings. She is ready to tell Olivia how she feels.
Olivia has a talk with Doris, her new confidante, and voices concerns over what happened at the hospital:
Olivia: I had to go to the hospital today, I had another episode with my heart, and Natalia was there taking care of me. And I think that she might have almost even kissed me. And I just, I didn't let it happen. I woke up before she could.
Doris: Why?
Olivia: Because, if we kiss, then what happens next? I don't even know if I want what happens next. You know? I don't know who I am anymore. See, I, I feel like... my identity was always my ability to get men, and be desirable to men. And I liked having that power over them. I still do, so, okay. I kissed a woman. I'm giving up a huge part of what I've been. (03/26/09)
Olivia is scared: Scared of what this choice will mean for her, Emma, Natalia, Frank, everyone. She doesn't want to make this decision to be with Natalia. So she goes home and tells Natalia that she should marry Frank.
Natalia reluctantly accepts Frank's second proposal. Olivia, tears in her eyes, hugs Natalia as a saddened Natalia realizes that that because neither of them are brave enough to step up, the can never have what they truly want—each other.
Spring 2009: Waiting for Love
Natalia and Olivia fall into a holding pattern as each hopes the other will end the wedding farce and admit their love, but neither is able to gather the courage to forge a new path and the wedding arrangements move forward. Olivia needs answers as she struggles to heal the emotional pain she feels following Natalia's engagement. She makes an appointment to meet with Sister Anne hoping to find peace in religion to combat all of the chaos and confusion she is feeling. When Sister Anne asks why she is confused, Olivia answers, "I just need to not want what I can't have." Sister Anne quickly picks up on what Olivia isn't saying and reminds her, "God is love, Olivia. And so are relationships, especially the worthwhile ones."
Olivia decides to use this newfound wisdom and throws an engagement party for Natalia and Frank. Before their guests arrive, Olivia helps Natalia put a necklace—her wedding gift to Natalia—on: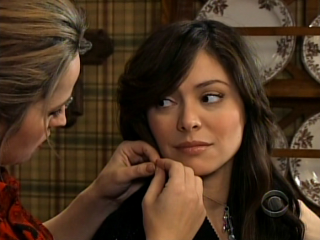 Olivia: You know what, it's very, very delicate. So if you push too hard, it won't work. But if you're gentle... (04/01/09).
It is a very intimate moment as Olivia gently works the clasp and Natalia slowly leans into Olivia. The moment is gone when Frank arrives and offers to finish. A flustered Olivia starts hitting the champagne and doesn't let up even after accidentally spilling some on Natalia. Later, when Natalia suggests she take it easy on the booze, Olivia strikes out:
Olivia: Oh. You know who you sound like? You sound like somebody's wife, but you're not mine. And you've got a hubby to be downstairs that you can go boss around, okay? I call the shots in my own life. Got it? (04/01/09)
She immediately apologizes and when Natalia admits that she has problems of her own, Olivia softly wishes she could make them all go away. She is about to say more when Emma interrupts them. Later, Olivia decides to toast the happy couple and Natalia, knowing how unpredictable Olivia gets when she is drunk, tries to talk her out of it, but to no avail.
Olivia: Okay, all right, all right. Okay. Okay. Gus brought Natalia and I together, and not in a way that either one of us wanted or expected. And I... well, we didn't like each other. And honestly, I never thought that we would, but... we slowly came to rely on each other. And we became friends. And then we became a family. You have changed my life forever with your grace and your optimism and your faith. And I'm grateful for that. I've never told you that. I am so grateful. I've also never told you that... (04/02/09)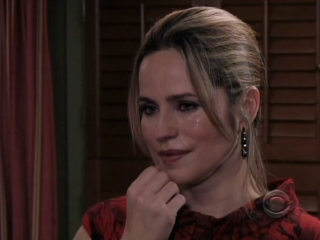 Natalia drops her glass in an attempt to keep an emotional Olivia from admitting her feelings, and they share knowing smiles as the men clean up the mess. The wait continues.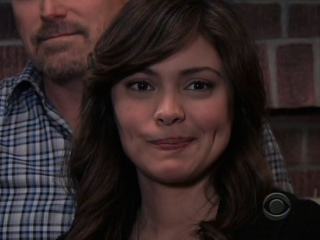 After the party, they jokingly fight over the broom, their hands meeting as they both clasp it, and Natalia brings up Olivia's speech:
Natalia: When you got up and said that you were going to make a toast, I really... I had no idea what you were going to say.
Olivia: Honestly, neither did I.
Natalia: But it was a beautiful speech.
Olivia: I meant every word. More than anything, I just want you to be happy.
Natalia: Thank you.
Olivia: And I would never do anything to get in the way of that. Never. (04/02/09)
Olivia makes it very clear to Natalia that regardless of her feelings, she will not interfere in what she believes would be the best thing for Natalia, and for all of them. Natalia continues to follow Olivia's lead, but during a post-cleanup conversation on the porch, her eyes are opened to just how much her life is going to change when Olivia and Emma leave their home:
Natalia: It's just a lot of stuff that I haven't really thought about yet. You know, I'm used to getting up, packing Emma's lunch, going to the Beacon and working, and figuring out our schedules, and then we come home and put Emma to bed, and wake up here. With you.
Olivia: Yeah. I guess we'll both have to get used to a new routine.
Olivia decides that denial is the best way to move forward and insists on helping Natalia plan the wedding, starting with picking out the dress. Stunned by the way Natalia looks in her dress, Olivia is barely able to murmur, "You're beautiful" before falling silent.
During the conversation at the mirror where Natalia speaks about thinking she would never meet someone that would make her want to get married again, Olivia can only speak with her eyes. They both know that the person Natalia is referring to is Olivia, but again, they think that putting their feelings aside is for the better good.
Emma thinks something is wrong with Natalia and tells Olivia that she saw Natalia crying and that maybe Natalia wants them to stay. Olivia is surprised to hear that Natalia has been crying. (04/06/09). When Emma once again tells Olivia that Natalia is sad, Olivia goes to see what is wrong and finds Natalia looking at the wedding dress with tears in her eyes. Natalia says buying the dress was a mistake but Olivia that she wants her to have the dress, she wants her to have everything she deserves: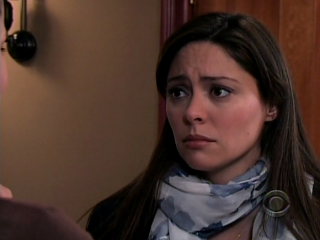 Natalia: I can't. I can't have the one thing I want. (04/13/09)
Natalia, starting to crack, tries to explain to Olivia that she doesn't want to marry Frank, but Olivia refuses to listen:
Natalia: You're the one who has to sacrifice. You're throwing me this wedding, and then you and Emma have to move out of your own home...
Olivia: Don't [puts her hands on Natalia's face] you understand why we're doing this? (04/13/09)
They are interrupted when Frank arrives with his wedding gift for Natalia—he pulled some strings and got Rafe released into a halfway house, as well as a week's furlough. The wedding is moved up so Rafe can participate. Thrilled to see the woman she loves so happy, Olivia feels left out when Frank, Rafe, and Natalia talk about being a family and she leaves.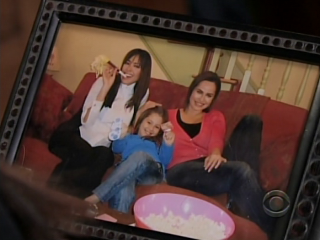 While she is gone, Natalia holds a picture of herself, Olivia, and Emma as Frank jokes that it's not too late to back out.
Meeting Doris for a drink, Olivia tells her the wedding is moved up. Doris calls her on being a coward and tells her that she needs to "stop the wedding before Natalia makes a huge mistake and ruins everyone's life, including yours." Olivia returns to the Farmhouse determined to tell Natalia how she feels but stops short when she sees Natalia crying. Natalia leads her by the hand into the living room where Olivia learns that Rafe gave Frank Gus's badge. Wanting to give her son the father he desires, Natalia suggest they get married today and asks Olivia to be her maid of honor. Tears streaming down her face, Olivia accepts the offer then hugs Natalia—she knows she has waited too long.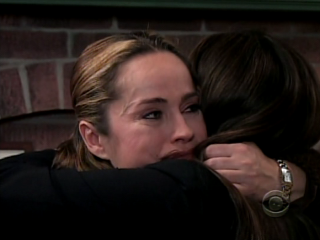 During her pre-wedding counseling with Father Ray, Natalia is stunned to learn that Olivia was responsible for many of the nice things Frank did for her and she leaves the counseling session more confused than when she started.
On her way to the church, Olivia stops at Gus's grave and places roses as she tells Gus how she really feels about Natalia. She breaks down as she admits how hard it is to watch Natalia walk away, and at that moment, Natalia arrives at the graveyard. Determined to find out why Olivia is upset, Natalia keeps pressing:
Natalia: Tell me what's wrong.
Olivia: [Crying] Just go be with your groom! Please, you don't want to be here!
Natalia: I want to know why you are upset. I do!
Olivia: You don't want to know... I'm in love with you! I'm in love you. (04/14/09)
Natalia is stunned at first and argues when Olivia tells her not to say anything. Claiming that she can handle all the trouble Olivia seems to think their love will bring, Natalia tries to tell Olivia how she feels as well, but once again, Olivia convinces her that she needs to marry Frank.
The couple can't find anyone except Doris to officiate and despite her obvious attempts to stall the ceremony so Olivia can tell Natalia not to marry Frank, the ceremony begins.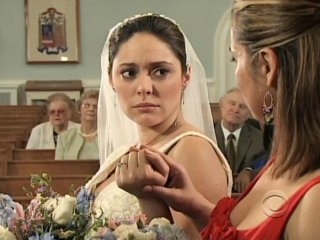 An emotional Olivia hands Natalia Frank's ring and Natalia starts strong but begins to falter as she tries to pledge her love to Frank before God. She breaks down in tears, apologizes to Frank, and runs out of the church.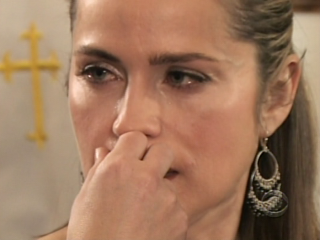 Olivia stands there watching, tears in her eyes and a hint of a smile on her lips. She offers to go after Natalia.
Olivia wanders through a snowstorm looking for Natalia and eventually finding her in the gazebo. Olivia tries to persuade Natalia to return to the church, but Natalia tells Olivia that she can't marry Frank:
Olivia: Yes, you can! You can marry Frank!
Natalia: No. I don't love him. I love you! I love you, Olivia. (04/17/09)
Olivia is both stunned and relieved to hear Natalia's claims of love. Natalia is still confused and seems more concerned about how she has hurt the Coopers than how she has hurt the woman she loves. Olivia, realizing that Natalia isn't ready to tell the truth about why she ran out of the wedding, covers when Frank finds them by telling him that Natalia is still not over Gus.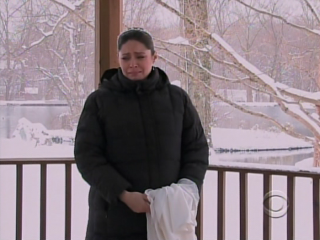 Olivia assumes that Natalia is too ashamed of what she feels and tells her they can't be together.
Back living at the Beacon, Olivia and Emma are having a rough morning when Natalia arrives and insists on attending Emma's play. In Emma's classroom, she and Olivia argue about being together: Olivia feels Natalia isn't ready for the social and religious ramifications of their love, nor the physical aspect that comes with a same-sex relationship.
Natalia calls Olivia out on always selling her short and assures Olivia that she "knows what it means when I tell someone I love them." Frank interrupts to tell Natalia that because the wedding didn't take place, Rafe must report to the halfway house earlier.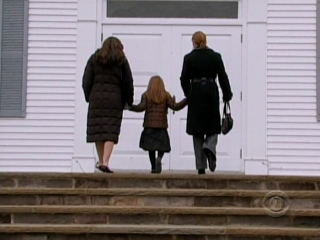 Standing in front of the church after saying goodbye to her son, Natalia is happy to see Emma and Olivia walk by. She asks Olivia to sit with her inside, and in a move meant to show Olivia that she is at peace with both her religious beliefs and her love for Olivia, Natalia holds her hand.
The women go on an accidental first date when Emma talks them into going to Towers, then ditches them for a friend. They struggle through the awkwardness a new relationship brings and eventually find a way to be comfortable with each other. Natalia walks Olivia to her hotel door and reluctantly declines when Olivia invites her in:
Natalia: It's been a really nice night, you know? Like us together, like, normal. Just being normal. And if, if I come in, that will change. I just, I really need us to able to be ourselves around each other.
Olivia: Yeah, I need that, too.
Natalia: So what happens now? What happens next?
Olivia: We say good night.
Natalia: Good night. (04/23/09)
Olivia and Natalia slowly learn how to be comfortable each other and in an effort to figure out their feelings, decide to go away together for the weekend. Before they can leave, they face their first major crisis together when Frank learns from Doris that Natalia stopped the wedding because she is in love with Olivia. Insisting that her feelings for Olivia are real, she tells Frank that it's over. When he storms out, Natalia leans against the door and cries as Olivia comforts her.
They go away for a spa weekend, hoping to figure out what "being together" really means for them, but an interruption by Blake Marler, a longtime friend of Frank, and the town gossip,—followed by an argument that sends both of them packing—almost destroys the fledgling relationship before it even begins.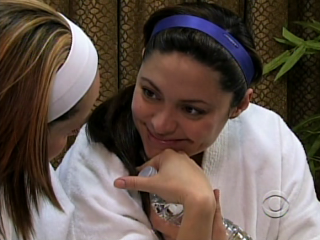 Olivia and Natalia realize they are allowing fear of moving to the next level to keep them from exploring their relationship and quickly make up. Their vacation turns into a family trip when Emma shows up at their door, begging to stay. Olivia agrees, but makes it clear to Natalia that they have to figure out how to be together.
Ava calls and asks Olivia to help her move into a new apartment in San Francisco; with Emma in her care, Natalia goes back to Springfield alone to face the music. After dealing with a sad little girl that just wants to move back to the Farmhouse with both her mommies, Natalia has a run-in with Buzz, Frank's father, and then Doris. Feeling overwhelmed, she calls Olivia and asks her to come home.
Olivia returns and is welcomed home by an enthusiastic Natalia who reassures Olivia of her love: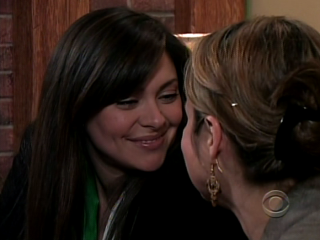 Natalia: You know, like, a couple months ago, I would have really argued with you that all my choices are very safe. But you're right. I took the biggest chance of my life when I told you.
Olivia: When you tell me what?
Natalia: I love you.
Olivia: And?
Natalia: And I haven't regretted it since. (05/19/09)
They discuss moving back in, but Natalia is hesitant, only because she wants to do this right. When Olivia leaves, Natalia is visited by Father Ray and tells him that she has feelings for Olivia. In a Bible verse throw-down, she makes it clear that despite the church's teachings and his disapproval, she loves Olivia and they are going to be together.
After agreeing that they can't allow their personal relationship interfere with working together, Olivia and Natalia sneak out of the hotel and meet in the park, where they both admit to being scared.
While they have their impromptu picnic, Frank arrives and tells Natalia that Rafe has been granted a new hearing. Thrilled by the news that her son may be coming home for good, Natalia hugs Olivia.
Everyone is excited when Rafe is released and Olivia realizes that with Rafe home, her relationship with Natalia will change. She encourages Natalia to tell Rafe about them, but with Rafe struggling to acclimate, Natalia wants to hold off and once again, the waiting begins. They argue about Natalia coddling Rafe after learning that Rafe's record will keep him from his dream of being a policeman like his father. Olivia realizes how important it is for Natalia to be with Rafe right now and tells her that she will come back, but only when Natalia invites her:
Natalia: This isn't some kind of ultimatum. This isn't like, you know, you tell your kid about us right now or I'm out of here?
Olivia: No, no. You were great with Emma, and I need to show as much care for Rafe as did you with her, okay? I just... I got a little off track, you know. He got out of jail and he had all of your attention, and I just... I saw it as an obstacle.
Natalia: I understand that.
Olivia: And I didn't, I didn't think that it was going to be this difficult. I got scared, but I'm not anymore. Because I know that if I wait, you will be there and are you so worth waiting for. (06/02/09)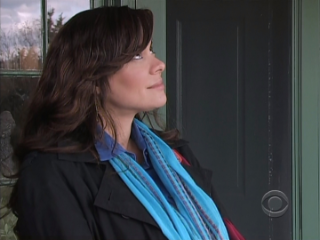 Olivia can't stay away long, and after spending an afternoon helping Natalia bake cookies, she finds it hard to keep her mind off the potential physical aspects of their relationship. Shopping for sex toys with Blake doesn't help and eventually Olivia decides to visit the Farmhouse, where Natalia tells her that Rafe got a job and they have a very tender conversation about waiting: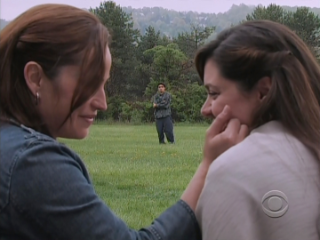 Natalia: And I... I really feel like this is kind of a big turning point for him, you know? And that pretty soon he'll be more adjusted and then we won't have to wait any more.
Olivia: Well, that's what I wanted to tell you. Because I don't want to see our situation as waiting, you know? I just... I want to cherish every moment I have with you for whatever it is. That really sounded way too mushy.
Natalia: No, that's not too mushy. I love... I love hearing that. I do. And I love spending every second with you that I can. But I do want more.
Olivia: So do I. But you know, if we... if we never have more, if we end up just being two friends who love each other more than anything in this world, I'll still want it. I don't mind giving up other things just to be with you. (06/11/09)
Natalia is having none of that and assures Olivia that she wants everything other couples have, including sex. They continue to have a loving conversation, caressing each other and kissing hands, unaware that Rafe has been watching them from afar. When he happens upon a second intimate moment that evening, he asks his mother what is going on, and Natalia admits that she is in love with Olivia. Rafe reacts badly and not wanting to have anything to do with his mother, moves in with Frank.
When Frank's daughter accuses Natalia of taking advantage of her father's good nature, Natalia decides that she needs to make some changes in her life.
Not wanting people to assume that she and Olivia are only together because of their circumstances she ends their professional relationship and begins searching for a new job. She is hired by Blake to work as a publishing assistant and when she goes to the park to tell Olivia, she decides that they have waited long enough.
She and Olivia are finally going to be together.
Summer 2009: Fighting for Love
Olivia is ecstatic. She and Natalia are preparing to take their relationship to the next level by telling Emma and going to the Bauer Barbeque together. She is finally going to have everything she has always wanted: a devoted partner that wants nothing more than to love her, and a loving home for her family. When Doris calls Olivia on her giddiness, Olivia explains: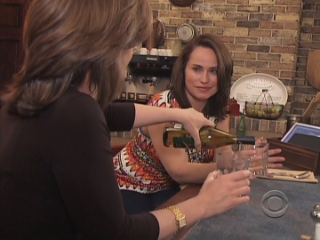 Olivia: Natalia and I weren't looking for this. It just happened. And now I can't imagine my life without her. When we're together its like things are how they're supposed to be. And I've never felt this way with anyone else (07/01/09).
Their plans take a serious detour when Natalia learns that she is pregnant from her one encounter with Frank five months ago.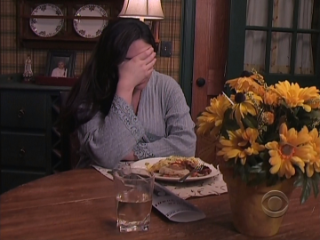 While she doesn't doubt her feelings for Olivia, Natalia is unable to fight the shame she feels for repeating the same mistake she made as a teen, and with all of the other pressures she is facing, makes a difficult decision that she confides to Blake and no one else:
Natalia: Blake, I'm pregnant with the baby of the man that I didn't marry. And I'm in love with my best friend. My son doesn't want to talk to me. I have to go.
Blake: Where are you—where are you going?
Natalia: I think... I think I'm leaving town. (07/03/09)
Olivia is distraught when she realizes Natalia has left and fights to find the woman she loves. She learns from Blake that Natalia is staying at a religious retreat in the area. Searching retreats with Doris, Olivia struggles to remain positive, but after one too many dead ends, loses control and screams for her love:
Olivia: Natalia! Natalia, I know you can hear me. Even if you're not here, I know you can! Because I love you and you love me! And when two people love each other like this, they shouldn't be kept apart! And it's confusing! And it's not easy, but nothing worthwhile ever is, so you come down here and you let me talk to you! You let me make you understand! Natalia! (07/09/09)
A completely despondent Olivia returns to Springfield and finds solace in the bottom of a bottle. She continues to search for Natalia—even getting arrested in Chicago—but only finds heartache. Her pain is deepened when she learns that Ava's father, Jeffrey O'Neill, has died in a plane crash. When Ava comes home for Jeffrey's funeral, Olivia reveals the depths of her feelings about Natalia to her daughter:
Ava: She gave you Gus's heart.
Olivia: She gave me more than that. She nursed me back to health. And she stood by me, when I probably didn't deserve it. And made me realize how precious life is. And she taught me how to love.
Ava: She's a very special woman.
Olivia: We fell in love.
Ava: You... you love Natalia?
Olivia: More than I have ever loved anyone in my life (07/27/09).
Ava, while surprised, is very happy for her mother and offers comfort when Olivia explains that Natalia left because it was too hard. Olivia decides to have Emma go to San Francisco with her sister while she fights her personal demons and tries to get her life back on track. She continues to drink heavily even after her physician warns her of the danger excessive alcohol can cause for heart transplant patients. She also seeks comfort in her ex-husband, Josh Lewis, but can't allow herself to sleep with him. Rafe continues to blame her for Natalia's disappearance and all of Olivia's fears about being unlovable come back to haunt her.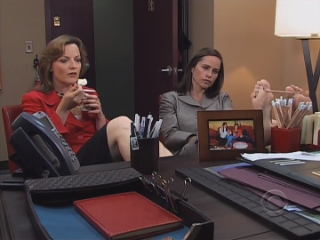 But during a conversation with Doris, Olivia is reminded that her daughters love her unconditionally and she sets about reclaiming her life. She stops drinking and is thrilled when Emma comes home. No sooner does she have her life under control—then Natalia returns and throws everything into chaos.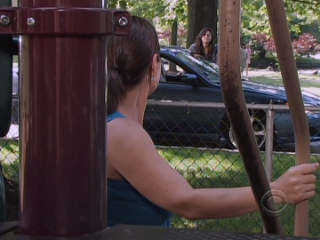 Natalia has come back to Springfield with a plan: She and Olivia will raise the baby together and Frank will be the child's father. They will all play an important part in the child's life, but Natalia makes it clear to everyone: She wants to be with Olivia. Trouble is, no one is really too fond of Natalia's plan: Frank isn't sure how he feels about Olivia raising his child, Rafe thinks Frank and his mother will get married and Olivia will finally be forced out of their lives, and Olivia can't trust her and refuses to get back together: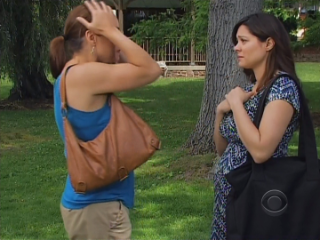 Olivia: No, you left me! There is a problem that came up and you took off. You didn't believe in us. Okay. So you tell me how I am supposed to trust the next time something happens, something that scares you comes up you're not going to take off on me.
Natalia: I won't because I love you.
Olivia: God, I love you. You left me. You broke my heart. And I can't let it happen again. You understand? I don't trust you! (08/28/09)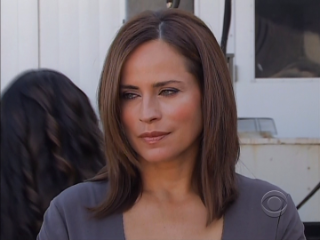 Olivia can't deny that she loves Natalia with all her heart. You can see her inner struggle to keep her emotions in check each time Natalia makes an attempt to win her over. She understands why Natalia left, she just can't get past the way Natalia left, and it is that lack of trust that prevents her from accepting Natalia back into her life.
Natalia: I know what you need. You need for me to prove to you that I love you. And I will. I will prove it.
Olivia: Chocolate chip cookies aren't going to make me trust you again.
Natalia: What will?
Olivia: I don't know, Natalia. I don't know that anything ever will.
Natalia: Oh, see, you're wrong. Something will. There is something. And I don't know what it is yet, but I will figure it out. What we have is good. This is really good. And things are going to work out. Because I think things are already starting to work out. And you may not be able to see that yet, but I can. And I am going to keep coming back here until you do, too. (08/21/09)
Natalia had no idea that she would have to work so hard to reconnect with Olivia, but she is not one to give up the fight when it comes to someone she loves. She does everything she can to win Olivia over, from making cookies and begging for a job to even barging in on Olivia's date with a man, but Olivia refuses to give in. Natalia continues to push through with her plan, including Olivia in on decisions regarding the baby, quieting her protests with confident statements that they will be together, Olivia just needs time:
Olivia: I can't do it right now. I can't. I can't spend one-on-one time with you, okay? It's just too hard. Maybe one day we can be casual friends, but I can't do it now.
Natalia: You can't do it because you're in love with me. We are not casual friends. And that's not what I'm looking for from you.
Olivia: I need to move on.
Natalia: No, we need to be together. And you can't fool me by going on dates with other people. I know how I feel. I know how you feel. I can see it in your eyes right now. I know I hurt you. And I know it's going to take a while. And it's going to be a lot of hard work for me to remind you how good what we have is. I'm a patient woman and I can do it. (08/31/09)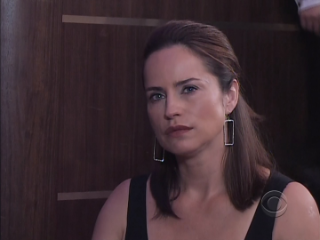 It was a fatal illness that initially brought Olivia and Natalia together and it is a fatal illness that reunites them as the series comes to a close. When Phillip discloses that he is dying, he reminds Olivia that she doesn't have to lose any more people in her life. "You have somebody. You have somebody that loves you. And wants you in her life. Don't lose Natalia by pushing her away." Olivia takes his words to heart and decides to stop fighting the love she desires so much.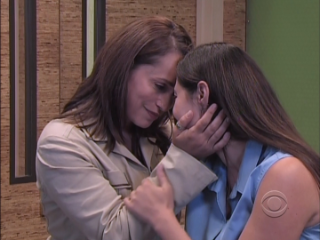 Olivia and Natalia reunite at the first ultrasound appointment for the baby, and by the next day, Natalia has convinced Olivia to move back to the Farmhouse.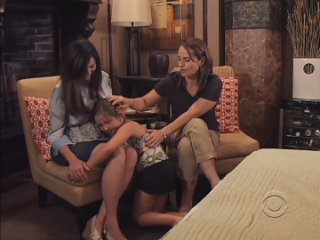 They tell Emma, who is excited about moving back in with Natalia and gaining a baby sister. They are all surprised when Frank, Blake, and even Rafe show up at the Beacon to help move the Spencers back to the Farmhouse. Several more people show up to help and they all celebrate the move with a home-cooked meal and a game of softball. Olivia and Natalia take in the moment, both grateful for the supportive family and friends they have: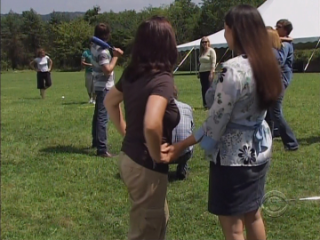 Olivia: You did it. You made us a family.
Natalia: We did it. (09/10/09)
The only thing that surpasses their happiness is news that due to a bone-marrow transplant from Alan, Phillip will survive.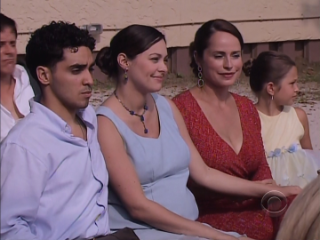 Olivia and Natalia make their first public appearance as a couple at Billy and Vanessa's wedding. Some people are surprised, but everyone is supportive. Later that day everyone gathers together at Company to say goodbye to Rafe, who has joined the Army and is leaving for basic training, and it is here that they learn Alan has died. Rafe sweetly comforts Emma as Olivia smiles on appreciatively. They take Rafe to the bus stop and Olivia promises him that she will take care of his mother—in fact, she tenderly comforts Natalia as the bus pulls away.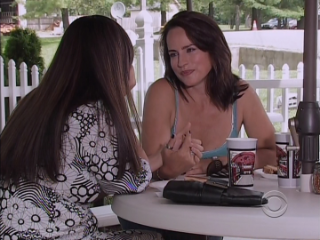 All of the fighting, all of the grieving, all of the dancing, and all of the waiting, Olivia and Natalia are finally able to enjoy the love they share:
Olivia: Life isn't supposed to work out for me like this.
Natalia: Why?
Olivia: Because it just hasn't. And now here I am and I'm getting everything that I've ever wanted. (09/18/09)
The series flashes forward one year and we see that Olivia and Natalia are blissfully happy together with their family: Rafe, Emma, and baby Francesca.
Why I love this pairing
Enemies to friends to lovers. We've seen this type of story before, and I'm sure we'll see it many, many times again. But I can't imagine that we'll ever see a storyline like this unfold in such a way where not only did we actually see the characters fall in love, but the viewers fell in love right along with them. Layer upon layer of wonderful episodic threads were woven into the tapestry of a beautiful story that, as my friend Maroukian said, showed the transforming power of love. From angst-filled moments tempered with humor to scenes of everyday chores infused with buried passion, this story—while eliciting mercurial fan response, especially in the last months—succeeded in providing what many soap operas are missing these days: an old-fashioned, slow-burning love story.
Simply put, this was a story about two unlikely people falling in love. And whether they were fighting for love, leaning into love, dancing around love, or finally giving into love, the simple fact that there was love is what drew me—and thousands of other viewers and fans—to this pairing.