DISCLAIMER: Murder in Suburbia and its characters are the property of ITV. No infringement intended.
AUTHOR'S NOTE: Apologies if you find any inaccuracies or gaping plot-holes, hehe. I have officially fried my brain with this one and I promise the next one shan't be quite so convoluted. This is episode two of my version of a series three. Thank you for reading and thanks to blob for betaing.
ARCHIVING: Only with the permission of the author.
SERIES: Part two of the 'Turning Points' Series.
Lost and Found
By Claire G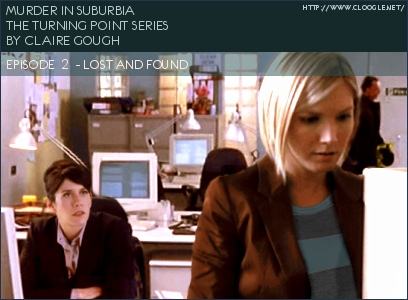 Christian placed the halogen lantern on the ground at the site of excavation and jumped into the channel that had been cut into the earth. He worked steadily on the east side, pulling and digging at the soil in a way uncharacteristic of an archaeologist. Burrowing like an animal searching for food, he eventually found what he was looking for and used a thick-bristled brush to clear the area of soil. He reached up for the lantern but a foot pressed down hard on his fingers; he pulled them away and turned in time to see the light fly towards his head. The lantern clunked to the ground, illuminating the base of the trench. Christian touched the wound in his forehead; his hand came away covered thickly with blood. Air rushed against his face; the hard rubber sole of a shoe cracked against his jaw. His body swung unwillingly to the right and he fell onto his hip. With blood in his eyes he blindly fumbled on the ground, found what he was searching for and surreptitiously pocketed it. The figure jumped down into the trench. Christian watched the dim light of the lantern move away and then switch off, plunging him into darkness as he fell into unconsciousness.
ACT 1
Sullivan's office
Kate left in a huff. Emma remained to ask a question.
"Boss, is this wise?
"I happen to think it will be character building; Ash could do with something like this to... soften her up a bit," said Sullivan.
"And you don't think that, perhaps, it might make her even more uptight?"
"She's a grown woman, Scribbs."
"That's what worries me." With that, Emma scooted out of the office and caught up with her partner.
"Nobody else, he said. Nobody else, my arse," Kate said to her in an agitated tone of voice.
"I'm sure he wasn't lying when he said it clashed with that PCSO event, and you know that Maureen's off sick."
"Talk about short straw." Kate quickly trotted down the stairs; Emma followed. "He still hasn't forgiven me for kissing him in front of everyone, has he?"
"Actually, Ash, I don't think he was that bothered about --"
"Petty-minded little... argh. Let's get this over and done with." They grabbed their coats and headed out of the door.
Blackheath School
"Any final questions?" The group of five to eight year olds all sat cross-legged and stared back at Kate as she loomed over them.
One of the older boys at the back raised his arm. "Why don't you have a uniform?"
A younger boy coughed noisily by Kate's feet, and she grimaced. "My colleague and I are detectives and the department we work for does not require us to wear uniforms. I am a detective inspector." She hoped to impress them with her title.
The boy looked back at her with a confused and disappointed face. "Like, like Inspector Gadget?" he asked breathlessly.
"My god, do they still show that?" Kate muttered under her breath. "You could say that. I have fewer things up my sleeve though, ha."
No response came from her small audience.
"Ahem. Okay. Any questions about what we've been talking about today? About strangers." She said the word so slowly as to almost be patronising. "Don't be shy."
A girl sitting beside the coughing boy sneezed and then drew her knees up, wiping her nose on the sleeve of her burgundy jumper. "What does bollicks mean?" she asked in a small voice.
Kate's eyes widened and she swallowed so hard it hurt.
Emma stood against the wall and tried to stifle a giggle.
"Any questions about what you've been hearing about today?" asked Kate, clapping her hands together.
"You and the other lady, when you came in, I heard you say to her --" the child offered again.
Emma ran over to save Kate. "I think you must've heard Inspector Ashurst sneeze. I think she's getting a cold. Aren't you?"
"What? Oh yes. A cold." She pretended to sneeze into her hand to prove a point.
"Right. Who wants a sticker?" asked Emma enthusiastically. All hands flew up into the air.
School car park
"Well I don't know about you but I am completely genned up on 'stranger danger' now," said Emma as she twirled her keys round her finger and deftly skipped her way around a large puddle.
Kate flashed a glare at Emma and grasped her by the shoulders. "Never let them make me do that again."
"Promise." Emma gave a Brownie salute. "C'mon, Miss Hardbroom."
They got in the car and set off for the station. Kate began to perk up as soon as the engine started. Emma released the handbrake and manoeuvred out of the school gates.
"Guess who called last night," said Kate.
"Your mum," replied Emma.
"Well yes, because it was Thursday, but I don't mean her."
"Who then?"
"Do you recall the Callum McCourt court case?"
"Tongue twister. I do. Three weeks we spent gathering evidence for that case, only for it to be dismissed on a technicality thanks to that git of a defense lawyer, Daniel. I assume it was him asking you out on a date."
"How did you know?" Kate looked disheartened at her guessing game being cut short.
Emma took a deep breath. "Well, a) you spent half the trial batting your eyelashes at him, b) it couldn't be the prosecution lawyer because he was gay, and c) - you've got his name written on that folder with a time next to it and a small drawing of a stick man in a barrister's wig." She pointed at the pile of papers on Kate's lap.
"Oh." Kate wrinkled her nose. "How did you know he was gay?"
Emma was distracted by the vehicle diversion for the archaeological dig taking place nearby. "Who?"
"The prosecution."
Emma drew another deep breath. "When I dropped those files and you bent over to pick them up, everyone was looking at your bum. Apart from him."
Kate looked flattered. "That doesn't mean he's gay."
"He was looking at Daniel's bum. Well, that, and he told me that he'd just split up with his boyfriend."
"Why don't people talk to me about things like that? Am I not approachable?"
Emma avoided the question. "Don't go out with Daniel; he's a shyster."
"He wasn't that bad."
"Three weeks' work, Ash."
"He's just good at his job. Annoyingly so."
They stopped at traffic lights and rain began to batter against the car windows. Kate sneezed.
"Are you coming down with something?" asked Emma.
"I don't do ill," stated Kate sternly as she gazed out of the window at the impending storm clouds.
Emma stared at her mobile in its dashboard holster. "Come on," she whined.
"Come on, what?"
"I'm bored with paperwork; there's been nothing else to do lately. I want something proper for us to investigate."
"Be careful what you wish for, Scribbs." Kate caught Emma's eye, but their attentions were suddenly diverted when the phone began to ring.
Excavation site
"My husband is dead -- I don't think you know what this is like for me," shrieked Perdita Jones, a shortish woman in her late twenties with piercing eyes and jet black hair. She stamped her foot on the ground, splashing droplets of mud onto her cropped khaki trousers.
"Madam, please calm down. We appreciate that this must be incredibly hard for you." Kate stepped forward, holding up her hands in a submissive posture in an attempt to mollify her.
"Appreciate?" Perdita repeated incredulously. "Have you just found your husband bludgeoned to death?" Her colleague, Tariq, held onto her shoulders in an attempt to stop her advancing on Kate and Emma.
"Perhaps we should talk to you later, Mrs Jones," said Emma.
"Yes, I think that would be wise," she responded through gritted teeth.
They stepped away quietly to let Perdita continue her hour of angry grief.
"People deal with death in so many different ways," said Kate.
"I kind of admire her for not trying to cover up how she's feeling," said Emma. "I'd never be brave enough to shout at you."
Portacabin
Kate and Emma set up an interview room in the archaeologists' portacabin office. First up was Tanya VanGeene. She sat opposite them in her fashionably layered clothes and mud-clad boots. She pulled her glossy red-dyed curly hair back into a ponytail, and removed her black thick-framed glasses to rub them clean using the hem of her t-shirt.
"I can't believe she's acting this way. I mean, yes, it's horrifying, but you're only here to help, aren't you? O'course we're all distraught about Christian's death."
"And what was your impression of their relationship?" asked Kate.
"Fiery. Hot-tempered. My Rob would know better as he's good friends with both of them."
---
Rob Fairfield was a young man with three days' worth of stubble and a messy head of hair under a dirty-looking bucket hat.
"Christian used to rub people up the wrong way a lot. Don't get me wrong; he was a mate, but he was the kind of guy who thought he knew best and he was always preaching to people."
"About what, religion?" asked Emma.
"Oh no, he wasn't religious -- I mean about politics and the environment. It was all well and good and sometimes I totally agreed with him, but it used to grate on people sometimes. He liked to get his way. Tariq, for instance, would have none of it."
---
Tariq Gaber slumped back across the office-style armchair and ran his fingers through his dark foppish hair.
"It's true, we weren't the best of friends, but he was okay; he was fine. We didn't bother each other. He knew I wasn't going to take his crap. He's a digger, I'm a scanner -- I do the geophysical stuff and pc recreations. We didn't talk much outside work."
"Do you think Mrs Jones will be ready to talk to us soon?" asked Emma.
"Oooh, I dunno. She's in total shock and will probably bite your head off again. Doesn't help that she found his body in the trench she'd been working on. That's well nasty."
"So she's an archaeologist too."
"Yeah. That's how they met, studying it at uni together. If they'd ever've had babies they would've had them in there digging stuff up too."
Emma smiled to herself at the thought of it.
"We'll be needing records of this site's unearthed items. Can you provide us with that?" asked Kate.
Tariq nodded. "Yeah, no problem, we've got it all databased."
"We'll bring someone in to cross reference, to see if there's anything missing," said Emma.
"I doubt anything was worth stealing. We find interesting stuff, not buried treasure."
Building site
The rain stopped drizzling and the clouds parted.
Kate waved her finger at the various builders who were pulling their t-shirts off. "Any hint of sunshine and Britain's out there taking its top off. Don't they realise it's still winter?"
A suited man approached them. "Excuse me ladies, but you'll need to wear hard hats in this area. I must insist." They took the hats without argument. "Excellent, now -- how may I be of assistance?" Derek, the council's construction site overseer, was a tall, broad man with soft blue eyes. Despite being more than ten years Kate and Emma's senior they both found him extremely handsome. In their eagerness to introduce themselves, they spoke over each other. Derek simply smiled. "Delighted to meet you both."
Kate jumped in first. "We understand that you had dealings with the deceased?"
"As soon as the digs are complete we can start work on the new communal area. Mr Jones and I met a couple of times in meetings -- that about sums it up. He wanted to extend the dig time by three to four weeks but we at the council simply couldn't agree to that time scale. I suppose now that the area's a crime scene he got his wish."
"Have you or any of your workers noticed anyone lurking about the place?" asked Emma.
"Far too many, to be honest. Kids like to drink on the site, so we're constantly having to gather up old alcopop bottles. Youths of today, eh?"
"Quite," replied Kate, smiling at him.
---
"He's mine," said Kate quite abruptly as they left the site.
"What do you mean 'he's mine'? He's definitely mine."
"He's too old for you, Scribbs."
"Oh, because you're so much older than me. Besides, don't you have a date tonight?"
"Minor issue."
CID Office
Emma gingerly sorted through the possessions which had been recovered from the body of Christian Jones. Among the items were a wallet, a watch, a bracelet, keys, a wedding ring, scraps of notepaper, and a delicate time-corroded human finger bone. Emma held the bone up to the light using a pair of tweezers.
"There's blood on it," she noted.
"The report says that it's Christian's blood only," remarked Kate without looking up.
"And it's not one of his own?"
"Not that you'd carry one of your own fingers bones around, but no, all digits complete and accounted for."
"Okay. You're an archaeologist and someone's just battered you over the head with a blunt instrument. Why is your first instinct to put an old bone in your pocket?"
"Force of habit?"
"Is it very old?" asked Emma.
"Been buried thirty years or so. They've examined the area and found no other matching bones."
"Maybe he already had it on him."
Sullivan sauntered into the office. "I've got some news for you, ladies -- the collection is down one gold coin; Roman by the looks of it. I suggest you have a word with one of the archaeologists to see if they can shed any light on its worth. Could be our motive." He nodded towards the window. "You'd better get back out there." Outside, rain was streaming down, cascading from gutters and batting off car roofs.
Kate and Emma both grimaced.
Portacabin entrance
Carrying a much-needed umbrella, Emma walked over to Rob and squinted to see the slogan on his t-shirt. She pointed and read it aloud. "Archaeologists do it in the dirt."
Rob looked up from his own chest and pointed back at her, jokily saying, "Detectives do it undercover."
Kate listened as she approached the two of them and added, "Police officers do it with handcuffs. What? Why are you looking at me like that?"
Emma smirked and turned back to Rob. "We need you to take a look at a coin in your database and tell us what you know about it."
---
"Would any of your colleagues have taken it for their own private collections, or to sell on?" asked Kate.
"We're not exactly relic hunters, Inspector, just historians."
"Coins aren't worth much, are they?" asked Emma.
"Generally worthless, nothing particularly special, but very useful for dating."
"Dating?"
"Yes, as in, determining the era," he responded.
"Oh yeah. Sorry." Emma scrunched up her nose and felt silly.
"Let's face it, you don't sign up for a career in archaeology for the company car," said Rob.
"It might be precious to someone though," said Kate, examining the picture on screen.
"Put it this way, then, if any of us took it we would know full well how to cover our tracks."
"Is that an admission, Mr Fairfield?"
"Just being honest."
"What about access to this place?" asked Emma.
"The cabin is always locked at nights but open during the day when we're around. Christian, Tariq, the council and I have a key. We have numerous people coming and going; paid and voluntary workers. It's an open house as far as we're concerned. First one in opens up. Last one to go closes up."
"And who would that have been on the day that Christian died?"
"That was me," he admitted.
"And where did you go that night?"
"Party in Islington. Didn't get back 'til 3am."
Council office entrance
Malcolm waved his clipboard at Kate and Emma.
"Hello, hello, be with you in two ticks." He finished talking to a staff member wearing a reflective jacket. "Delightful to meet you, simply delightful." He shook their hands. "How may I be of assistance? I suppose you're here about the dead chappy. Yes, you must be. My name is Trowbridge, Malcolm Trowbridge. You probably know that. I facilitate land projects and such things. I work in that building over there. Look, see, ground floor, window at the end, you can just see my ficus plant. That's little old me."
Kate opened her mouth to speak.
"Oh, yes, the dead boy. Frightful isn't it? Makes one terribly fearful to go out at night. I can let you have all the details you need; places and whatnots. Do you need them? I'm being presumptuous again. Mr Jones, yes -- nice enough man. I took him to be one of those earth-loving types that you hear of. I don't know really; I don't come across them much -- I mostly deal with suits." He made speech marks with his fingers and snorted. "This area's been dug over before, but as I understand it the technology is much better now. Not that I would know a trowel from Adam. Oh, I'm so glad you're investigating this case; you've been so lovely to talk to." He checked his watch. "Well, I'd best be off. I've got a meeting. It's three hours long and it's the same every week, but they have terribly good biscuits. I'm usually around for a chat, any time. TTFN." He sped off in the direction of the offices, reading his clipboard as he went.
Emma looked quizzically at her notebook.
"What have you written down?" asked Kate.
"Biscuits."
Excavation site
Perdita sat with legs dangling into a trench, lost in thought. Clearly undaunted by the weather, she sat in mud with rain running down her face. She wiped a sleeve across her eyes.
"I'm ready to talk to you now," she said, as Kate and Emma approached.
"Thank you, Mrs Jones," replied Kate. "We need to know a few details. Firstly, at what time did you discover the body of your husband?"
"I arrived on site about eight as normal. First one here. I picked up my tools from the cabin, set things up and went over to the trench I was working on." She pointed at the area of the dig site that was now surrounded by police tape. Emotion caught her voice as she said." He was soaked through from the rain; he looked so twisted and awful".
"Was there anyone else on site at the time?"
"Just me and a few passers-by."
"What time did you last see him alive?" asked Emma.
"He left the house at about quarter past eleven in the evening, said he was going to do something that he didn't want me to get involved in. I begged him to tell me what he was doing but he wouldn't let on. He just said that he didn't want me to get hurt. Now I'll never know."
"Did you follow him?"
"No, I stayed at the house."
"Do you have any idea why Christian was at the dig site so late?" queried Kate.
"All I know is that he wasn't excavating; there were no tools with him."
"Were you the last person to see Christian alive?"
"I would think that the last person to see him alive would have been his killer, don't you?" Perdita responded, once again scowling.
ACT 2
Franco's restaurant
The date had begun promisingly: Daniel was as handsome as Kate remembered him, if not more so. She blushed significantly when they met and he kissed her cheek. She found him very formal in his immaculate suit, pinstriped white collared shirt and silk tie.
"Any interesting cases?" Kate asked between mouthfuls.
"I can't really talk about that," he said.
"We've got a murder at the moment --"
"I assume you shouldn't be talking about your cases either, Kate," he rebuked.
"Oh yes, of course, yes... is your practice far from here?"
"Directly opposite, actually. We bring lots of clients here."
"Ah, how convenient." She mentally knocked a few points from his score for taking her to a restaurant where he brings the criminals he has defended.
"I'm really pleased you agreed to come out to dinner tonight." Daniel smiled widely.
"My pleasure." Kate smiled, placed her elbows on the table and propped her chin up. "My colleague said that I shouldn't meet up with you."
"Oh yes, how come?" he asked as he took a swig of wine.
"She said that I shouldn't trust you."
"Why would that be?"
"Because you cleverly convinced the court to throw out all the evidence we'd gathered."
He laughed. "Is this the Scribbins woman?"
Kate nodded. "Mm-hm."
"Bitter, was she? I can't help it if I'm good at what I do," he scoffed.
"That's what I said."
"You should find yourself a new partner; someone who can match your obvious intellect."
"I'm perfectly happy with the partner I have, thank you." Kate said as she sipped her wine.
He chuckled again. "Well, she just seemed like an ignoramus to me."
Kate almost choked on her drink as it went down the wrong way. She coughed.
Daniel clicked his fingers in the air. "Waitress, a little water? Please?"
After her small coughing fit, Kate sneezed a few times and covered her nose with a napkin. She was about to reply to his earlier comment when he spoke.
"You're not coming down with something, are you?"
"I think I might have caught a cold. You see, we had to visit a school this morning and --"
"Cheque please," said Daniel to the waitress, writing with an imaginary pen on the palm of his hand. He quickly picked up a napkin and covered his nose and mouth. "I'm sorry, but I'm sure you understand -- I can't be ill, simply not viable, not in my line of work."
Police station entrance
Bernard Whitely entered the station and slowly walked over to the reception desk. He then sat, waiting patiently for the desk sergeant to finish taking details of a missing bicycle.
"How can I help you, sir?" asked the officer.
He stood up, blinked his tired old eyes, took off his cap and turned it in his hands. "I believe I have some useful information about the murder of Christian Jones."
CID office
"You'd think I had the bloody plague," said Kate.
"No goodnight kiss then?" asked Emma, smirking.
"Not even a dessert. It would have never worked anyway; he was a pocket change jangler. Plus I didn't like the way he..."
Emma leant forward to listen more closely. "Yea? Go on. What else didn't you like about him?"
"Never mind." She waved Emma away and shook her head. "You're obviously revelling in my awful date so let's get on."
"I wish I'd been there," Emma laughed.
Kate made a face at her.
"What?" She stifled a giggle. "We could've had pudding."
"Someone to see you about the death you're investigating, Ma'am," interrupted the desk sergeant. "Insisted on speaking directly to an investigating officer."
"Thanks." Kate turned to Bernard. "Good morning, sir. How can we be of assistance?"
"Is it Inspector Ashurst?"
"Yes, that's right."
"Perdita described you very well."
"I see. Mr...?" She bit her lip and wondered exactly how she had been described.
"Whitely. Bernard Whitely. Oh, and you must be Sergeant Scribbins."
Emma shook his hand. "Nice to meet you. How can we help, Mr Whitely?"
"Well, I have reason to believe I was the last person to see Christian before he died."
CID Interview Room 3
Upon entering the room, Bernard he eased himself down into the plastic bucket chair.
"Anything you can recall about the night of Christian's death would be of use, Mr Whitely," explained Kate.
"My house is directly beside the Square, you see; my bedroom overlooks the digs. On the night it happened, a clanking noise woke me. I got out of bed. It was as dark as pitch; I had to turn the light on to see my way to the window. We've had a bit of bother with youngsters hanging about drinking, so I keep records of what I see for the Neighbourhood Watch." He held aloft a little leather bound book, tapped it with his free and hand then placed it on the table between them.
"Did you see any such people that night?"
"I didn't. There was just Christian. I recognised his coat; he was hunched down in a trench, digging away."
"I thought you said it was pitch black. How could you see him?" asked Emma, with a doubt in her voice.
"He had one of those portable lanterns and my eyesight really is good, considering my age."
"What happened next?" asked Kate.
"Well, assuming he was just working off some energy, I thought I'd let him be. So I went back to bed."
"Well that's been really useful, Mr --"
He cut Kate off. "But then I woke up again. Again with a noise, louder this time. I went back to the window and I couldn't see anything. The lantern had been turned off."
"So then you went back to bed?"
"No, so then I got my coat and boots on and went back out to see where he'd gone."
"Didn't you consider it a bit risky to go outside -- what with the history of yobs in the area?" asked Emma from across the table.
"Once a bobby --"
"You were in the force?" asked Emma,interested.
"Superintendent before I retired in the eighties. After that they put up a new building and our old station on Walker Street got turned into a pub."
"Walker Street? Oh -- The Blue Lamp!"
"That's the one."
"Well I never. I wondered why I could never relax in there," Emma said as she turned to shrug at Kate.
Kate rolled her eyes and coughed. "What then? After you went out?"
"Not a lot really. I saw a figure moving off into the shadows and at the time I thought it was him."
"Thought? So what made you change your mind?"
"The time of death."
"I'm sorry, sir. I don't understand." She drew up a chair beside Emma, who was sitting opposite Bernard.
"You have the time of death down as 11.45pm, don't you?"
"But how...?" Emma began. "The details haven't been released to the press yet."
"Once a bobby..."
"Hm." Kate looked disgruntled. "I'm sorry, but can we start from the beginning? I'm a bit lost as to how you know Christian Jones and his wife in the first place."
"That's easy. Perdita is my granddaughter. They were both staying with me at the house."
Emma's car
"They should put up a sign," remarked Kate as they drove out of Middleford and into rural landscapes.
"Saying what?" asked Emma.
"You are now leaving suburbia. Beware tractors and farm smells." Kate wrinkled her nose and swiftly wound up the window.
"I like the countryside. Besides, I would have thought that you'd be at home here in the fields and whatnot."
"Whatever gave you that idea?"
"Your mum."
"In what way?" asked Kate, bemused.
"She said you liked camping."
"I highly doubt that she did," Kate shrugged.
"No, really. She said to me, 'As a teenager, Kate was always in tents'."
Kate looked confused for a second and then fathomed the mistake. "Intense. Intense!" she said with wide eyes.
A look of realisation came over Emma's face. "Oh. Y'know, that makes so much more sense."
Oakdale Farm
"Ever taken a roll in the hay, Ash?" asked Emma cheekily as they walked up the dirt track.
Kate smirked, eyes shining.
"Can I help you, ladies?" asked a stocky old man, thick with layers of clothing, woollen jumper and wax jacket.
Kate bit her lip to stop herself smiling. "Good morning, sir. Are you Mr Alec Jones?"
"Yes. Are you more police?" he asked with a country accent.
"Yes. We're sorry to have to disturb you at such a difficult time."
"So you should be." He turned, began to walk back to the house and they followed. "Trampling all over my land. Disturbing my peace. You people and your ways, your block paving and coffee shops..." They failed to hear the rest as he stomped through the side door of the cosy hay-scented farmhouse kitchen.
"Block paving?" Kate and Emma mouthed to each other as they approached the doorway and stopped before entering.
Alec poked his head back out of the door. "You coming in, then?"
---
"He lived here when he wasn't at the university or on a dig. Helped out on the farm when he could. He was a good boy, was Christian. Perdita helped out too; they didn't like to be apart."
"Did Christian have any brothers or sisters?" asked Emma.
"I have seven children, four of them boys. He was the middle child. I never see the others. They all moved away as soon as they could to go off to work in the cities, all in high-flying jobs. I only had Christian, now what have I got? Ask for help from the rest of my children and they'd just send a bloody cheque in the post. It is an insult."
"Could you tell us about Christian's relationship with his wife?" asked Kate.
"You know when two people seem so different, but at the same time they're so well suited?" Kate and Emma glanced at each other momentarily. "They fought a lot, I'll say that, but they loved each other, of that I'm certain. They bickered constantly but they always made it up in the end."
"Is your wife no longer with us?" Emma picked up a family photo.
"She was killed many years ago by thugs. They were never caught. It was back in the '80s when being married to a black man made you a target." He paused to hold his chest. "Please don't tell me that Christian's death was a hate crime. I don't think I could take it."
Emma knitted her brow, leant forward in her chair and held his hand. "I promise you that we will track down your son's killer," she said earnestly.
Malcolm Trowbridge's office
"Mr and Mrs Jones were very keen to take on the project regardless of the opposition it faced," Malcolm explained.
"Opposition? From whom?" asked Emma.
"Oh yes indeed. Have you not read about it in the paper? Many of the council's staff and local politicians felt that it was too much like digging over old ground." He made speech marks with his fingers over the phrase.
"Must've missed that bit."
"You can see the upheaval caused to the traffic system. Even our own staff have to park in the back of Sainsbury's. Not to mention the letters written in to the local rag from members of the public." He continued, quoting a few examples. "'Inconvenience to the public right of way.' 'Wouldn't the money be better spent elsewhere?' That kind of thing."
Emma took down a few notes in her pad.
Kate perked up with a thought that sprang to mind. "But isn't it normal procedure to excavate an area of historical interest before building work can take place?"
"That is the norm, yes, but that was half the problem; there's already been digs on this site -- they took place in the seventies."
Kate sneezed into a tissue, looking bleary-eyed. "Do excuse me, I seem to be developing a slight cold." She got up and exited the room.
"This seventies dig," continued Emma. "Was there any controversy over that one?"
"I've got a box file with information about it, if you'd like?"
"Yea, that would be great, thanks."
Malcolm's hand flew to his lips. "Oh, I forgot; Mr Jones borrowed it."
CID office
"So we have opposition from some of the council staff and members of the public; add to that the missing coin. Numerous suspects, most of whom will all claim to have been tucked up in bed at the time." Kate sneezed twice, hid her face in a tissue and tried blindly to Blu-tack pictures to the white board, next to a drawing of a lantern and a big question mark.
"Is she alright, do you think?" Sullivan asked Emma.
Emma scrunched up her face. "I don't think she knows when she's reached her limit."
Kate proceeded to sneeze a further five times.
"That's one away from a full orgasm," said Emma.
Kate walked over to them and raised a hand to her brow.
"Ash, you should go home," said Sullivan in a concerned manner.
"I'm fine," she said breathlessly as she moved her fingertips to the bridge of her nose and pinched. Without warning her knees gave way a little and she swooned forwards. Sullivan caught her under the arms.
Emma placed a hand comfortingly on Kate's back. "I'll take her home, boss, don't worry." She moved her arm and supported Kate around her waist. "Come on, soldier."
"I'm fine, really," said Kate as she was ushered out of the door by Emma.
"Yes, course you are."
ACT 3
Kate's flat
Kate, followed by Emma, stumbled through the door and placed her back against the wall. "I don't think I'm well you know."
"Come on, jacket off." Emma pushed at the lapels of Kate's suit jacket and slid it off her shoulders.
"I need to hang that up."
Emma rolled her eyes. "I'll do it." She held Kate by the hand and pulled her through into the bedroom. "Into bed with you." Kate sat down heavily on the edge of the bed. "Arms up." Kate obliged and Emma pulled off Kate's cream-coloured tank top and began unbuttoning her shirt.
"My, you're forward." Kate laughed to herself then blinked. "I think I'm delirious." She sat droopily on the edge of the bed in her lace-trimmed camisole and suit trousers.
Emma peered behind Kate's head, not knowing where to start. "Is there a release catch for your hair or something?"
Kate reached back and unravelled her thick, dark hair, which bounced down onto her shoulders.
"Oh, okay, there was," Emma said, surprised. She brushed Kate's fringe aside and placed her hand upon her forehead, noting its warmth. "You get your night things on and I'll make you a drink."
After a few minutes she returned to find Kate curled up, fast asleep on top of the covers, clothes still on. Emma smiled to herself and folded the duvet over the sleeping Kate.
---
"What's all this?" asked Kate, who emerged into the sitting-cum-dining room wrapped in a robe.
"Ah, you're up. Feeling any better?"
"A little, thanks."
"I'll make you that drink." Emma rose.
Kate examined the table: it was covered with stacks of books and various kitchen items, such as eggcups and little bottles of food colouring. Kate held aloft the peppermint essence bottle and asked, "what's this for?"
"Not what, who!" called Emma from the kitchenette.
Kate looked back to the table and realised what she was looking at: a model of the crime scene and surrounding buildings. "Good to see you weren't bored. I hope you're going put everything back."
"Here you go." Emma came back and handed Kate a mug.
"Thanks. Is it safe?" She sipped at it cautiously. "Not bad. What's in it?"
"Honey, lemon tea, ginger and brandy," responded Emma, counting out the items on her fingers.
"Now, why doesn't it surprise me that you're good at mixing drinks?"
Emma caught the backhanded compliment and smiled. She turned back to her reconstruction. "I couldn't really visualise all the plans so I thought I'd make a 3D layout of the area."
"And what information have you garnered from this impressive exercise?" Kate mumbled as she held a tissue to her nose.
"Well. Firstly, Bernard's house is here, and the trench Christian was found dead in is here. Right?
"Right." Kate surveyed the area as she drank deeply from her mug.
"Well, that trench is completely out of the view of his house. There is no way he would be able to see it from his bedroom. However, there is one trench in direct view -- this one." She jabbed her finger onto the table. "So, scenario. Christian is attacked in this trench. He then either moves or is moved to the other trench." Emma's eyes gleamed.
"There's more, isn't there?"
Emma nodded excitedly. "I've been looking at the plans from the last excavation, which I found in the portacabin on the site, and I've marked the original 1970s trenches out here, here and here. Now... Bernard was here."
She took the peppermint bottle from Kate's hand and placed it back on a pile of books. "And he said that Christian was here, facing away from him. So we would presume he was about here. Any closer and he would be out of Bernard's view as it's too close to the house. Right?"
"Right."
"And what do you notice about this area?"
Kate studied it. "A trench from the first digs and this recent one overlap."
"I think Christian found something; something the murderer didn't want us to find either."
"Good work, Scribbs. I'm impressed. You should get on to the station."
"I have. They're getting a permit to dig up the area now."
Excavation site
"We've got something, Sarge. Looks like a complete human skeleton," said a young officer.
"That's great. Let me know when I can take a look." Emma crossed her arms and watched the JCB digger pull away the earth.
"Can't you let us do it?" asked Tariq with a distinctly panicked look on his face.
"Trust me, this isn't the first body we've dug up," said Emma cockily.
"It's not the body I'm worried about, it's the centuries of history your guys are mashing into the ground."
The suited and Wellington-booted Derek wandered over. "Found anything good?" he asked.
"Oh, hello." Emma turned and suddenly noticed who it was standing behind her.
"Your colleague not here?" he asked, looking around.
"No, she's at home ill until this afternoon. I'm here though. If you'd like to go for a dri--." She attempted to charm him.
"I don't suppose you could give me her number? I know you're in the middle of a murder case and everything but..."
"Oh... yea, no problem." She pulled their calling card out of her pocket and wrote Kate's home number on the back.
"Thanks. Do you think she'd be up to a quiet date tonight?"
"Definitely."
"Brilliant. Look, I'll see you later."
Tariq decided it was his time to give his opinion. "What a wanker," he said, shaking his head.
"Huh? He seemed alright to me. What's up with him?" She became increasingly concerned.
"Why would you still work if you were as rich as he is?"
"Rich?"
"Won the Pools, didn't he? Bought a massive house, cars, everything, and yet he still works. Rubbing our noses in it."
"Oh great, that's Ash lost to the league of rich wives, then."
"Wha?"
"Oh, nothing. Remind me, where were you the night Christian died?"
CID Interview Room 1
Rob sat in the plastic interview seat and twiddled his thumbs. Emma sat opposite.
"You seemed pretty keen to direct our attentions away from yourself as a possible thief of the coin."
"I've told you before, anyone can get in and access our stuff." He narrowed his eyes. "Have you worked out how much it's worth yet?"
"You sure you don't know already?" she asked.
"Scout's honour."
"Black market -- 'bout two thousand."
Rob whistled through his teeth. "That's a pretty penny."
"Good enough reason to murder Christian?"
"Friend and colleague, and no, nothing would be worth that," replied Rob, looking up.
"We've been looking into your alibi and no one at that party can you recall you being there."
"Look, am I being charged?"
"You might be if you don't come clean about where you were, Mr Fairfield. Or should we just ask your girlfriend?"
"Feel free."
CID Interview Room 2
"I let him do what he wants and I just seethe quietly about it later. It suits the both of us." Tanya sat back in the interview chair and crossed her arms.
"So you have an open relationship?" asked Kate.
"He seems to think so."
"What makes you think he was with another woman that night?"
"Because I was at the bloody party in Islington and he wasn't. Where else would he be?"
"Perhaps Christian found out about the theft and Rob finished him off."
CID corridor
Kate and Emma conferred in the hallway, sure that their suspects were lying.
"Making any headway?" asked Kate.
"Nope. Want to swap?"
"Definitely."
CID Interview Room 1
"Right, Mr Fairfield, it looks like you've got yourself in a bit of a pickle here," said Kate.
"I've told you. I haven't done anything wrong."
"Now, I'm not going to take any more of this from you. I've just been speaking to your girlfriend and it's become clear to me that you were the sole thief of the coin. Perjury isn't a very nice word is it?"
He muttered something under his breath.
"All right then. Right now you're looking to be very high on our list of murder suspects." She pointed her finger at him so close that he went cross-eyed. "Once and for all, Mr Fairfield, can you prove where you were the night Christian died?"
CID Interview Room 2
"Have you heard of buyer's remorse, Tanya?" asked Emma.
"Yes, o'course."
"Do you think there's such a thing as thief's remorse?"
"I..."
"You see we have a problem here... I've been in the interview room with Rob and he is this far away --" she held her thumb and index finger close together, "from telling us that you took the coin. And I would much rather have your side of the story."
CID corridor
Kate and Emma exited the rooms at the same time.
"Cracked?" asked Kate.
"Yep. They took the coin together, before Christian was killed."
"Robert has kindly given me the mobile number of a friendly household hot-goods tradesman he went to meet the night Christian died."
Forensic lab
Dr Weatherall examined the skeleton, which had been moved to the police labs.
"Epiphyseal fusion not yet complete; little wear and tear. I would say she was between seventeen and twenty-five. It's harder to be any more accurate than that, I'm afraid. When did you say those first digs were carried out?"
"1978," said Kate in a tissue muffled voice.
"Almost 30 years underground doesn't leave much to work with."
"Is there anything that might help us in trying to track down who she was?" asked Emma.
"Well, until we find a match on dental records, there is one other thing. See the indentations on the pelvic bone?"
"Sort of."
"The results aren't exactly conclusive but I'm willing to say she had been pregnant. As to whether she gave to birth to the child, that I don't know."
"But she wasn't pregnant at the time of death?"
"Did you find a tiny skeleton above the pelvis?" the doctor asked with an almost imperceptible hint of sarcasm.
"No," Emma replied.
"Then no."
"Cause of death?" Kate interrupted.
"Asphyxiation. I can't be clearer. It could have been caused by drowning, suffocation, strangulation or simply choking. Simplest answer could be that she fell into a hole filled with water and drowned. The nasty answer could be that she was pushed."
"Ooh, before I forget." Emma opened up the bag with the single bone which had been found on Christian's person. With a latex-gloved hand she placed it on the metal tray amongst the other hand bones of their mystery skeleton. "Snap," she exclaimed triumphantly.
Emma's desk
Emma skimmed through the various articles and plans relating to the original dig site. She was searching for something that might have made Christian go out that night. It wasn't until the same small article appeared in three consecutive editions of the local newspaper that she noticed it. Someone had obviously pulled a few strings to get it printed on the front page. It requested contact from a Corrie Dwight who had disappeared. 'Please come home,' begged the advert. No name was given as a contact but there was a note to ask that if anyone knew of Corrie's whereabouts would they please contact Middleford Police. Emma turned to her computer and delved into the records of this missing person.
"Corrie Dwight, born 1958. Gave birth to Amy Dwight on the 9th of February 1978." Emma read it out loud.
"Well that could match the recent pregnancy," said Kate.
"She isn't officially recorded as missing until 1981. That's two years later, which is why she hasn't come up on any of our matches yet."
"So what makes you think she's our girl?"
"These adverts were placed in the local paper at the same time as the digs. I don't know how I missed it."
"And who was she?"
Emma skimmed the entry. "You won't believe this. She was one of the councillors overseeing the original project."
"You're kidding. So what happened to baby Amy?" asked Kate.
"Oh yeah. Let's look." Emma tapped away. "Okay -- here we go. Went to live with her maternal grandfather."
"And who is that?"
Emma paused, open-mouthed. "Bernard Whitely."
ACT 4
Bernard Whitely's house
"Mr Whitely, we have some news for you."
"Is it about Christian? I can get Perdita."
"It's about your daughter."
"Corrie? But what news can you have of her?"
"Perhaps we'd best sit down, Mr Whitely." Emma took him by the arm and guided him through to the sitting room.
---
Kate and Emma sat side by side perusing the note, which Bernard had passed to them.
I love you but I can't go through with this.
Life is too hard. I must leave.
Goodbye. x
"In the moses basket?" Kate asked suspicously.
"That's right."
"And this is what? Corrie's wedding ring?" asked Emma, playing with the gold band.
Bernard nodded. "I know it sounds clichéd but that's what happened."
Perdita entered the room carrying a teatray. "I don't see any reason for you to find my grandfather's account untruthful."
"So, Perdita, why the name change?" Emma leaned forward to grab a mug and a piece of shortcake.
"Are you familiar with the story of A Winter's Tale?" asked Bernard, stirring several scoops of sugar into his tea.
"Vaguely," replied Kate.
"Well the upshot is that the situation was similar and I felt that Perdita needed to leave the past behind her, so my late wife and I became legal guardians and changed her name. Amy Dwight became Perdita Whitely. She grew up as our own." He clutched onto Perdita's hand.
"What do you think it was that Corrie was referring to when she wrote this note?" asked Emma.
"She and her husband had an acrimonious break up and he moved to New Zealand. I always thought that she felt unable to cope with being a single mother."
"And he emigrated before Corrie went missing?"
"Yes. Long before. So, what happened to her? Did she commit suicide?"
"We really can't rule anything out at the moment, including accident or foul play."
Perdita's face changed to that of someone hurt and offended. "Murder? You cannot seriously be telling me first that my husband has been murdered and now my mother too?"
CID office
"There's still a good chance that whoever killed Christian did it because he discovered the body of Corrie Dwight." Kate got up from her desk and walked over to Emma's.
"So who have we got? Who's lying? Perdita herself? Or even Bernard? They must be privy to more information than they're letting on."
"What's this?" asked Kate as she lifted the book that Emma was studying. "Graphology?"
"I'm trying to work out from this note what kind of person Corrie Dwight was. I think I'm getting the hang of this hand-writing analysis stuff."
"Can't you just ask her father?"
"Even though he's an ex-copper he's still a suspect."
"All right then. Do me." Kate flung over a hand-written report. "No cheating."
"Let's see. Quite angular. That means, um..." Emma traced a finger down the page. "Resentful and stubborn."
"You're probably reading the wrong bit."
"I've got another book here; let's try that one." Emma flicked through the pages. "Your lower loops look like... ah, these ones."
"Yes?"
"Uncompromising resentment and... oh..."
Kate grabbed the book and glanced down at the rest of the analysis, which read: 'Difficultly in sexual gratification'. "Charming." Her nose wrinkled. "Let me do yours." She gathered up the scrap of paper, on which Emma had been making notes. "Now. Moderate right slant -- somewhat impulsive, compassionate and amicable. Fluid form -- altruistic and original." Kate frowned. "Aha, here we go," she said triumphantly. "Rounded m and n -- lazy and immature."
Emma sniggered. "Not exactly damning."
Kate tossed the book back onto the desk. "Come on then, Scribbs. What have you found?"
"Well, I was finding it really hard to begin with but then I realised something. Unless I've gone bonkers, everything below this line here was written by someone else."
Kate leaned down beside Emma to cast a critical eye over the note. "What makes you suspect that?"
Emma looked at Kate, then back at the note. "Look, the words up to this point are quite delicate and almost nervous. The author's not applied much pressure with the pen. After that, the letters are drawn with deep pressure and every line with great care. Almost as if Corrie began writing a note, then someone copied her style and finished it for her."
---
"The lab boys agree with your findings. Everything beyond the word 'this' was potentially written by someone else."
"So Corrie wrote 'I love you but I can't go through with this' -- it's still pretty final."
"They found something else. The note has been cut, giving the top edge a sort of wavy look."
"To conceal who the note was originally intended for," said Emma, suddenly grabbing onto Kate's wrist.
"Precisely."
CID office
"How are we doing, ladies? Keeping up with the Joneses?" asked Sullivan.
"Hey boss, I've just noticed something. I thought this Roman emperor looked familiar." Emma held a large printout of the coin up to Sullivan's face.
"Remarkable," said Kate without a hint of sarcasm.
"I have been told before that I have noble features," said Sullivan smugly.
"Are you of Roman decent?" asked Kate.
"Well they did invade Ireland so there could be Roman blood in these veins. What about you, Ash? I've always thought you had a tinge of the mediterranean in you."
She blushed. "I haven't really spoken to my father about my heritage. Hang on. A Winter's Tale. The story of Perdita. As a child she was abandoned because her mother's husband presumed that he was not the father." Kate waved her fingers about, trying to recall more. "He has his wife imprisoned, accusing her of having an affair."
"He sounds lovely," commented Emma.
"He said that the child was the product of the affair. Of course it turns out that Hermione, that's the mother, hadn't had an affair at all. Perdita is raised by a shepherd and gets the prince."
"And that's one less book I have to put on my reading list." Emma smiled, crossing her arms.
"So what are you saying, Ash? How does this relate to the case?" asked Sullivan with his hands in his pockets.
"Bernard said that the situation was similar. What if Corrie's husband left because he thought she'd had an affair, and if that's the case, who did he think the affair was with?"
Gallimore entered the room. "Some pillock cut through the power cables to the Square's security cameras. We checked with a bloke at the council, Marlborough or something --"
"Mulberry," corrected Emma, she was watching Kate, who gave a small noise of approval at the mention of Derek's name.
"Yeah, that's it. Anyway, apparently it was one of their builders last week and it's not been fixed yet. Out of the ones you asked for, there was one camera working. It's the one facing down the road of the old guardsmen cottages."
"Brilliant, thanks. Ash, why don't we go and compare Bernard's little black book with the video?" Emma suggested.
Playback room
Kate and Emma hunched up beside each other. Kate fast-forwarded through the footage of the quiet street.
"I can't believe Derek picked you over me," said Emma.
"Why not? Isn't he allowed to have good taste?" replied Kate.
"It's not that."
"What then?"
"You're just..."
"Yes?" Kate asked impatiently, her cheeks still flushed from her continuing cold.
"Hard work," conceded Emma.
"Oh, thanks. You're just jealous."
A flash on the screen caught their attention. "Hold on a sec, look, there's Bernard's light going on."
Kate pressed play. "And there's him going out. The times tally up."
"Can you rewind? I thought I saw something."
Kate wound the tape slowly backwards. 11.45pm. 11.30pm. 11.21pm. She hit pause. "There, who's that? That's not Bernard."
"You're right, it's not -- it's Perdita." Emma saw Kate check her watch; she wasn't used to her partner being more eager to go on a date than to solve a crime.
"Look, why don't you go home, have a shower and get dosed up on Lemsip, then have a lovely evening?"
"That almost sounded sincere."
"Go. Sullivan will go with me to see Perdita."
Excavation site
Emma and Sullivan approached Perdita, who was clearing away tools for the night.
"Mind if we have a word, Mrs Jones?" asked Emma.
"I suppose not, as long as it doesn't take long. You already have two of my workers locked up and there's plenty to do."
Emma pursed her lips.
"I don't think we've met, Mrs Jones. I'm DCI Sullivan. Perdita isn't it?"
"Yes."
"Pretty name. It means 'lost' in Latin doesn't it?"
Her expression seemed to soften a little as gave a small nod.
"Mrs Jones, we have reason to believe that you left the house the night of your husband's death. This is in contradiction to the statement you gave."
"I didn't kill him."
"I didn't say you did."
"Is 'reason to believe' the same as proof?"
"Surveillance footage," offered Emma politely.
"I went for a walk." She crossed her arms over her chest, looking at the ground.
A voice came from behind them. "Don't believe her. Perdita -- why won't you just tell them?"
"Because I don't want to lose you."
Tariq came up beside them. "I can't prove it, but I was in my bed and breakfast that night, and Perdita was there with me."
Emma waved a finger between them. "You two?"
"Yes."
"Why all the secrecy?" asked Sullivan.
"An affair would give you reason to believe that we had a motive to kill Christian. But we didn't. When he left that night talking of 'taking care' of something, I assumed that he'd found out and was going to go after Tariq."
Derek Mulberry's house
"Big on hunting, are you?" asked Kate, nodding towards the various stags and predatory creatures' heads that lined the walls.
"Mm? Oh, no. They came with the house. I keep meaning to take them down but the place would be a little empty without them," replied Derek. "Can I offer you some wine? Or would you prefer a cough syrup cocktail?" he asked playfully.
"Wine would be lovely, thank you." She let her hand brush over the back of a plush leather sofa by an open fire. 'This is more like it', she thought to herself.
"Some of the antiques are mine; I'm a bit of a collector. Feel free to take a look around."
Kate wandered around the room, glancing at the paintings; she couldn't help but think about the murder. She cast her mind to the note. The first sentence danced about in her mind. 'I love you but I can't go through with this.' She glanced over at a glass case containing various items kept under lock and key. "Oh," she said to herself.
"Derek?"
"Yes, Kate?"
"How long have you been working for the council?"
"Ooh, about thirty years now. Sounds like an awfully long time, doesn't it?"
"In that case... perhaps you knew Perdita Jones' mother, Corrie Dwight?"
The sound of a decanter being knocked over came from the corner where Derek stood. For a moment he failed to turn and face her.
Emma's house
Emma sat down with a mug of hot coffee and looked over the collection of scattered papers. Sitting back, she took a bite of a biscuit, dropping crumbs onto the paperwork. Brushing the biscuit bits aside, she accidentally knocked a pile of cuttings off the table. "Oops." She moved to sit cross-legged on the floor, gathering everything up in her lap. The last item, which had floated behind a table leg, was a newspaper article. She recognised Corrie's face, having seen photographs dotted around Bernard's house, but she also recognised another face. Emma read the article, which was dated Wednesday the 26th of April 1978.
The location of the antique coins, recently unearthed in the excavations of the King George Square grounds, is unknown. The collection, which was to be moved to Middleford Police Station before being sold at auction in London on Friday, disappeared from Council House Stores late last night. It had been expected to raise over a million pounds. Derek Mulberry, pictured above (far right), the new councillor overseeing the archaeological project, was recently interviewed about the discovery of the aforementioned coins. 'The money from the sale of the collection is sure to be a boon to the revival of an already thriving community'. Police are hopeful and keen to recover the items swiftly. They are asking for any witnesses of suspicious behaviour in the area to report as soon as possible.
"Oh, pants," she exclaimed as she grabbed her phone and ran out of the door.
Derek Mulberry's house - outside
Emma stopped her car with a screeching halt outside Derek's house, she quickly released her seat-belt and was about to get out when Kate opened the passenger door and collapsed into the seat.
"Well that was a bust -- in more ways than one," sighed Kate.
Emma watched Derek, hands cuffed, being pushed into the back of a police car by a couple of officers.
"He murdered Corrie, the woman he loved, because she didn't want to go ahead with the theft. He amended the note, buried her in an open trench, took baby Perdita and left her on Bernard's doorstep. Almost thirty years later, Christian turns up and makes the link between Corrie going missing and the seventies excavation. Lo and behold he finds her skeleton."
Emma added up everything in her head. "So not wishing to be exposed, Derek needed to eliminate him from the equation."
"Exactly."
"So... Derek ended up stealing the collection of coins on his own."
"Ah, but you know what the most stupid thing is, Scribbs?" she asked without breaking for an answer. "The night he stole the coins from the council, thieves broke into his flat and stole the lot from him. It was all for nothing. Derek won all his money on the Pools. He's been slowly buying back all the coins from the black market for his private collection, which he keeps in a neat glass case in his grand hall."
"Smart," said Emma sarcastically.
"Is this how it's going to be, Scribbs? Drifting from one idiot to the next?"
"Your luck'll change. They won't all be murderers," said Emma, assuredly.
Kate sat back and relaxed into her seat as Emma started up the car and began to drive off. Suddenly she turned to Emma. "If you tell Sullivan that I was on a date with Derek, I will have to kill you."
"I know, Ash. I know." Emma smiled.
Next episode:
Middleford Theatre becomes the set for one of its own real-life murder mysteries. Which one of the cast or crew did the deed? Will Ash and Scribbs be able to shake off their elderly companion or will she be able to solve it before they do?
The End
Return to Murder in Suburbia Fiction